Top couple runners of India!
What's better than a partner to run along with? We admire the quality of mutual growth with the approach to growing independently, following each other's strengths, and together working on areas of development.
Following the same, BhaagoIndia brings you the top five running couples of India to admire their story and learn something from each. For you to wear your shoes and deep dive into the process of learning with someone you feel connected to!
Bajrang and Asha
First and foremost, Bajrang and Asha, the top couple runners in India break the stereotype of aging running at the age of 58 and 50. The two happily talk about running as their passion and an inseparable quality of it. Bajrang and Asha foremost hold the record of "most world majors completed by a couple" and got them listed in the international book of records.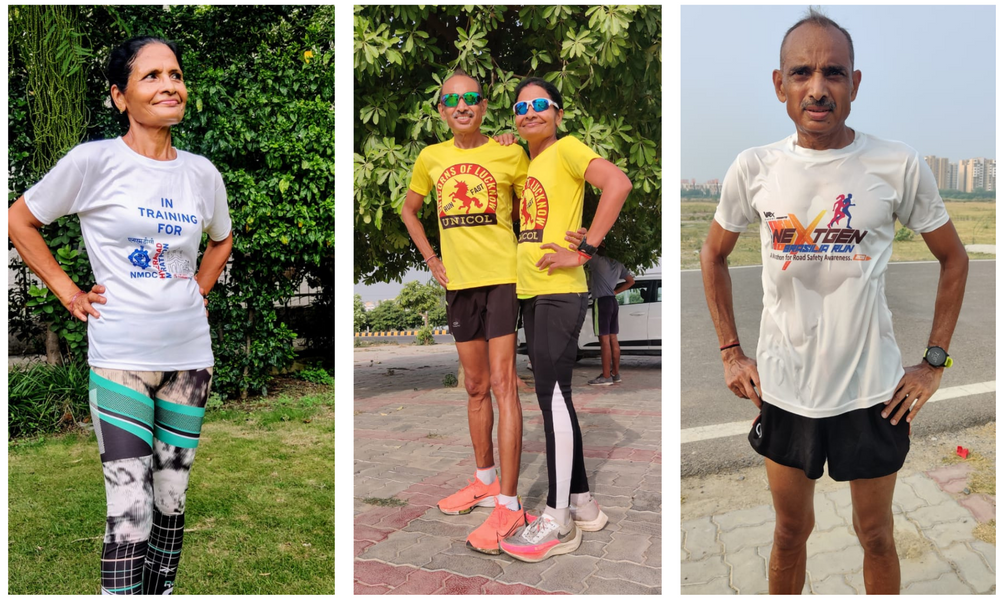 Both of them have shared only running together with each other or not at all, making them the most supportive couple runners on the list!
Read the full blog (Here)
Guncha and Manish
Based in Bangalore, Guncha and Manish are perfect examples of what a power couple should be. They enjoy the process of running together and hustling together to come out of the challenges they face.
Manish helps Guncha with her strength training, and Guncha helps Manish with building a disciplined pre-running routine. They ran Ladakh 10.5k and believed that running helped each other as yin and yang. Not only races but the entire process of it completes them and helps them not just physically but improves their mutual understanding.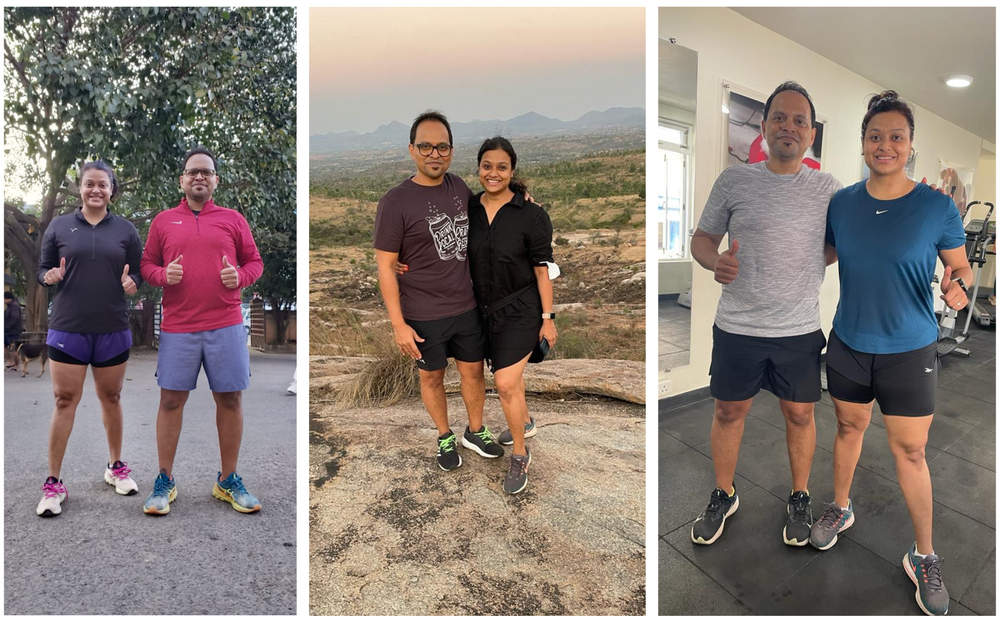 Guncha and Manish became disciplined and strong because running together as a couple. At the same time, improving independent pace and timings while running as a pair remains one of their greatest gains!
Read the full blog - (Here)
Poonam and Avinash
Poonam and Avinash are a spirited passionate running couple from Mumbai who initiated running after witnessing an unfortunate event to their relatives. They ran 10k in Bangalore as their first race and evolved each other's cheerleaders. Avinash recorded Poonam's victory and shared them in the form of short reels on social media proudly. They ran ultra marathons in Hyderabad, Bangalore, and also the Tata Marathon in Mumbai.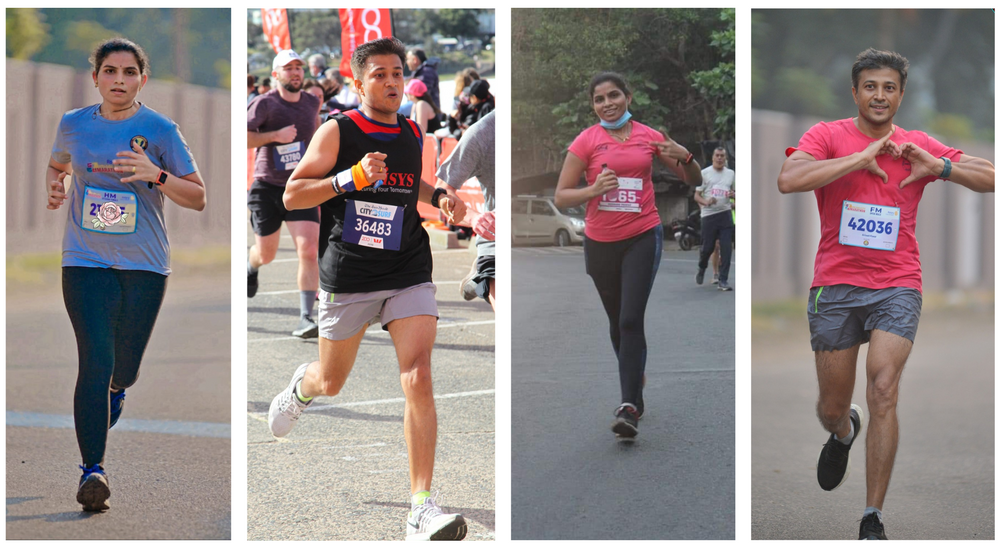 The constant support and love for each other they hold throughout their running journey makes them one of the top running couples in India!
Full blog link - (Here)
Vishwas and Tanuja
Vishwas and Tanuja are among the top five couple runners in India based in Bangalore who began their journey of running in 2018. Tanuja was working in IT, but now she is following her dream of doing Yoga, and Vishwa is enrolled in IT. Vishwas' passion for running gave birth to Tanuja's love for running. Vishwas thoroughly mentioned that running with Tanuja is way more fruitful and memorable than running alone. Tanuja finally overcame her fear of running for long distances because of Vishwas' constant support.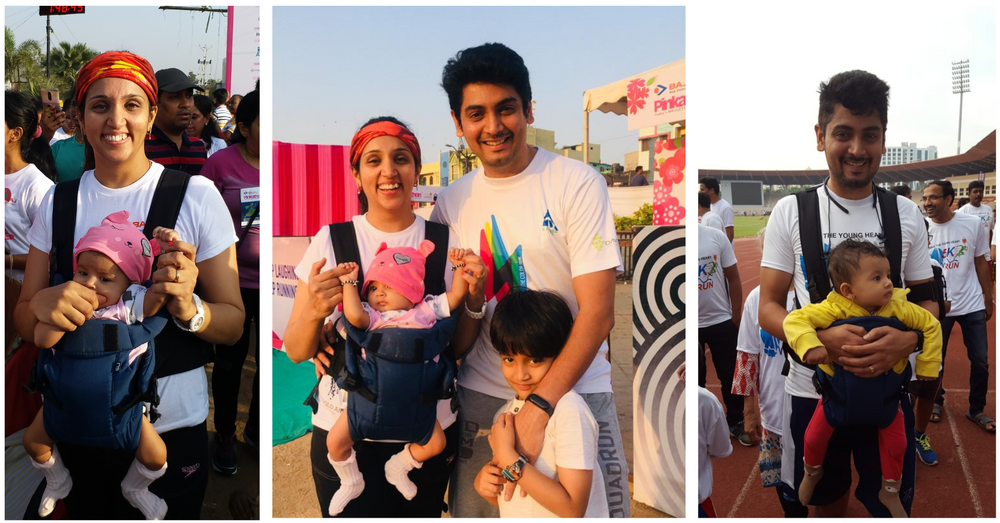 This power couple didn't give up even after several physical injuries caused by running. They also ran an impressive and worth embracing race with their baby holding to Vishwas' chest. The race was completed along with his parents and proved to everyone that "never they leave family behind."
Read the full blog - (Here)
Madhu and Alok
And last but not least, derived from their individual approach to running, Madhu and Alok are based in Pune and began running in 2017. Alok appreciates Madhu for her consistency in running which takes her a long way into running with highly competitive behavior. Whereas Madhu admires the growth-oriented mindset of Alok and his gradual approach to prosperity.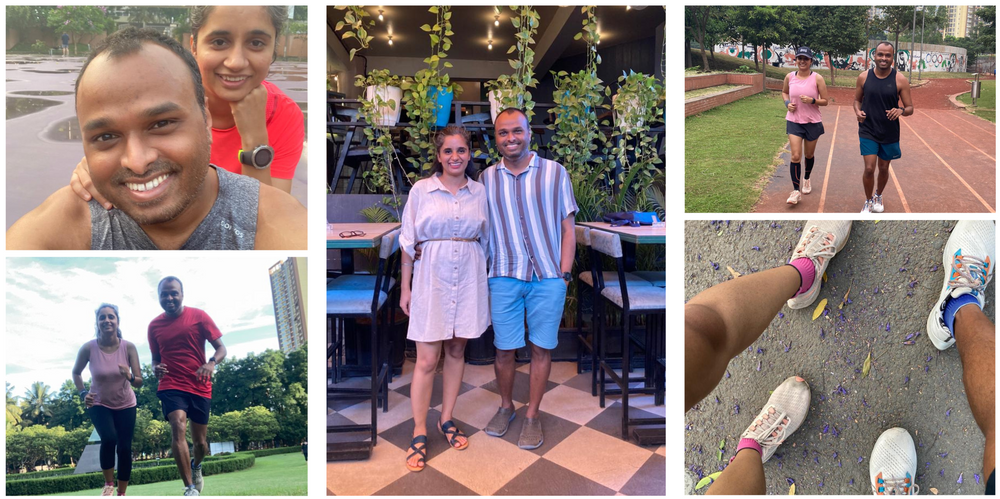 The quality of seeking each others' strength made them a source of passion and motivation for each other. They had different running strategies and ways, but together, they overcame all the differences and inspired many others. At the same time, improving independent pace and timings while running as a pair remains one of their top challenges!
Read the full blog - (Here)


Edited by Faiz Alam