Top 3 Nitro Series Running Shoes by Puma
Puma, a well-known name in the athletic footwear industry, has always been at the forefront of innovation. However, when it comes to being the preferred brand among long-distance runners, it has faced tough competition from giants like Nike, Adidas, and Reebok. But everything changed in 2021 with the introduction of Puma's Nitro Series.
In a surprising turn of events, Puma made a mark in the running community during the 2021 Tokyo Olympics, as Molly Seidel won an Olympic medal with an impressive time of 2:27:46 while wearing the Deviate Nitro Elite.
Since then, Puma has placed increased emphasis on their Nitro Series, which has propelled their standing in the market. They have emerged as a strong contender, capturing the attention of long-distance performance-based runners when it comes to choosing their running shoes.
In today's blog post, we will highlight the top three Puma Nitro Series Running Shoes available in India.
ForeverRun Nitro
Puma Claims - "The ForeverRUN NITRO dawns a new era of support and guidance for all runners, providing the softness of a full NITRO midsole without compromising stability. It features a newly developed NITRO midsole with two different densities – a softer core with a firmer rim – and an asymmetrical heel counter to hold the foot in place through every stride. The theme also continues on the outsole, thanks to a wider medial rubber segment stabilizing late-stage pronation. In short, it's the perfect blend of support and cushion."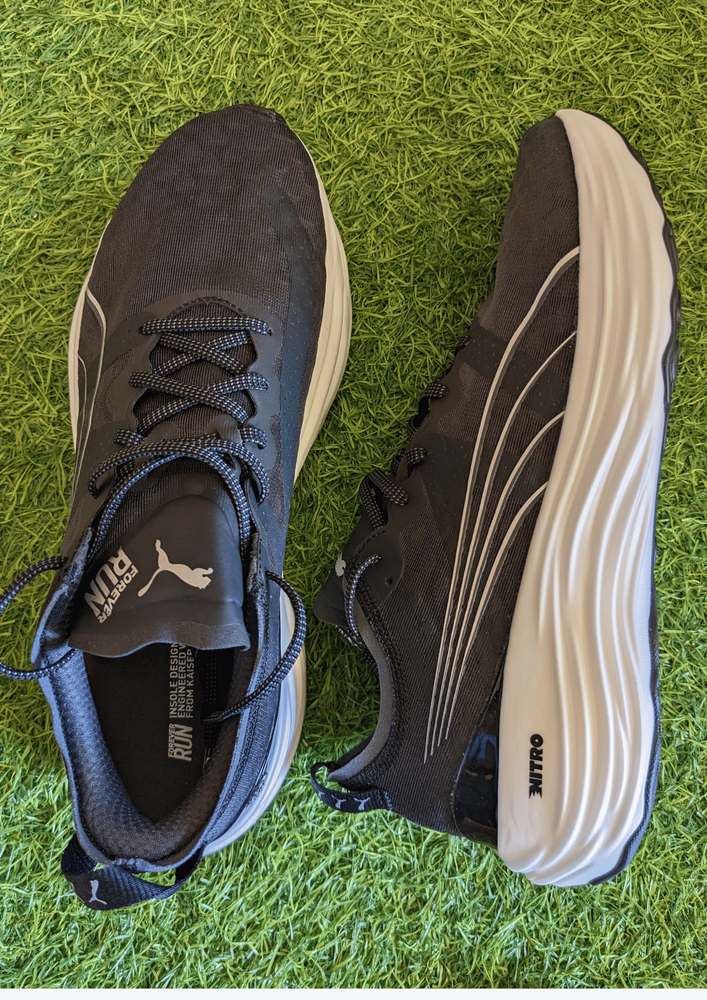 The Puma ForeverRun Nitro is a training shoe designed for individuals seeking a firmer ride without compromising on cushioning. ForeverRun Nitro is one of the stability shoes available for Indian runners having overpronation. It is always a struggle for runners with overpronation to find good stability shoes and Puma ForeverRun has hit the right chord for this segment of runners. The Puma ForeverRun Nitro incorporates sidewalls and an external counter in the heel area, offering a degree of centeredness and support. Additionally, the forefoot of the insole features a subtle metatarsal lift, providing a mild proprioceptive elevation. It's worth noting that the midfoot area narrows and becomes less stable due to the taller platform, making it ideal for those who do not require additional support in that region.
Stats -
SUPPORT LEVEL - Stable Support
WEIGHT - 295g
HEEL TO TOE DROP - 7.5mm
SUITED FOR - Runners with overpronation.
Price - Rs 15,999/- (On sale it can go as low as Rs 12,000/-)
Our Verdict -
Definitely would recommend it for runners who are training for Half Marathon and above, who have overpronation. It is a recommended shoe for individuals seeking a highly cushioned shoe with specific characteristics like a lower volume forefoot, wider forefoot, flexible metatarsal lift, and lateral stability at the heel.
Buy from
Puma India Store - Click here
Velocity Nitro 2 Wide
Puma Claims - "An all-in-one neutral running shoe for any distance, now engineered for a wider foot, the Velocity NITRO 2 Wide is a lightweight and sleek update to the Run PUMA roster. Featuring NITRO foam for exceptional responsiveness and ultimate cushioning, this upgrade to the original is a well-fitting and durable shoe for a smooth ride. PUMAGRIP offers multi-surface traction, from treadmill to track. "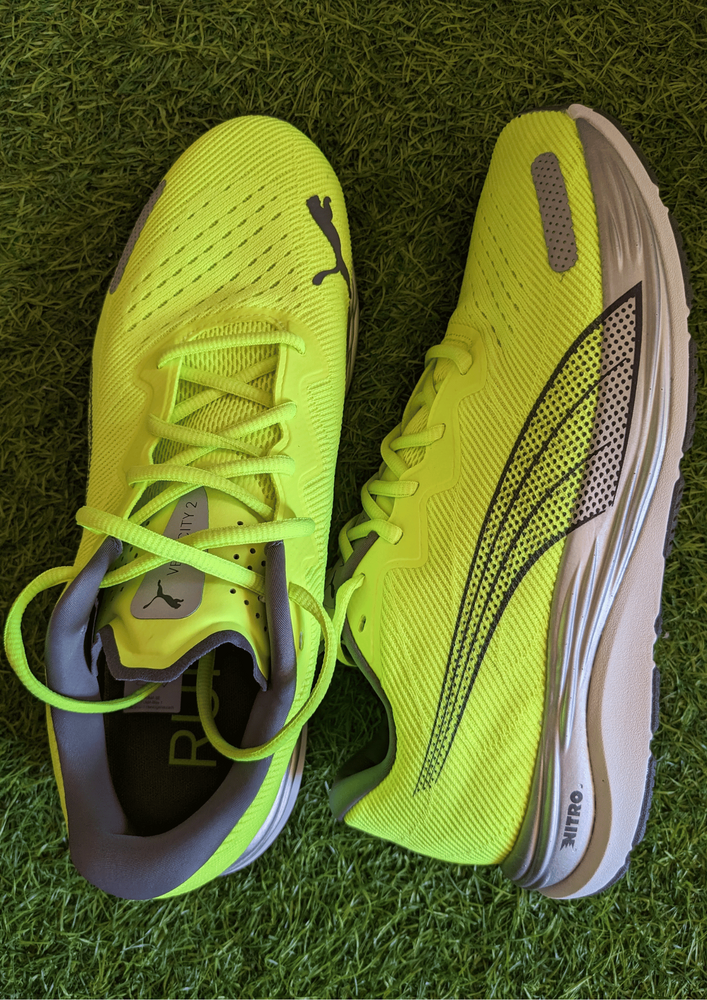 The Puma Velocity Nitro 2 is an excellent choice for training runs where you aim to cover a significant distance while maintaining an easy to moderate intensity. The combination of the NITRO foam top sole and the EVA midsole underneath creates a well-balanced feel, offering a moderately cushioned ride with a subtle bounce. The shoe's last provides a normal width fit overall, with a slightly wider forefoot and toebox. It's important to note that the Puma Velocity Nitro 2 is not designed as a stability shoe, not even a mild stability shoe. It falls into the neutral category, but it possesses some characteristics that hint at stability, placing it in the stable neutral classification.
Stats-
SUPPORT LEVEL - Neutral Support
WEIGHT - 257g
HEEL TO TOE DROP - 10mm
SUITED FOR - Long runs and Recovery runs
Price - Rs 11,999/- (On sale it can go as low as Rs 6,000/-)
Our Verdict -
Velocity Nitro 2 is a great shoe for training runs with an easy to moderate pace. It is not a shoe if you are looking for speed runs, and of course, don't expect to get too much bounce out of them. I would recommend it to be one of the training shoes used for long runs and recovery runs.
Buy from
Amazon - Click here
Puma India Store - Click here
Flipkart - Click here
Deviate Nitro 2
Puma claims - "The Deviate NITRO 2 – just like v1, only improved. It's the max cushion, max performance running shoe that makes going faster even easier. The update includes NITRO Elite foam for improved responsiveness, a reworked collar to reduce heel slip, and a lighter, asymmetrical base that works better with your body across all distances – be it short runs, marathons, and even ultras."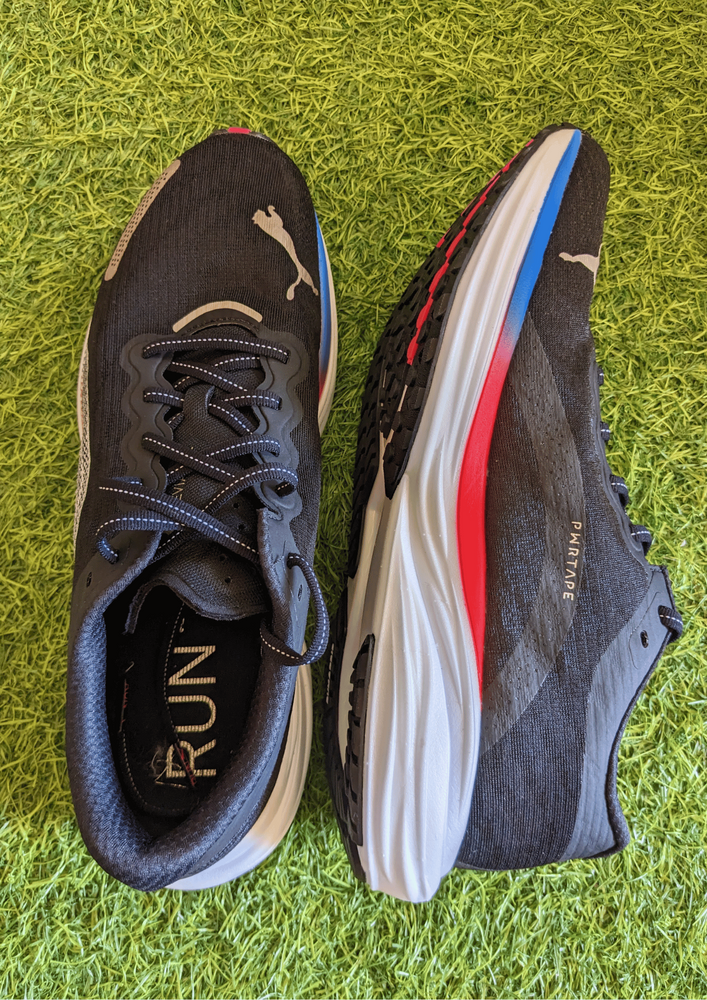 Puma's top end model for shoeThe midsole of the Deviate Nitro Elite 2 incorporates a dual layer of nitrogen-infused PEBA material, resulting in a slightly firmer cushioning sensation. This shoe is equipped with a PWRPLATE, which is a carbon-fiber plate that enhances energy return with each foot strike. The spoon-shaped plate is seamlessly integrated with the foam, providing a more uniform platform. Additionally, there is ample space in the forefoot to enhance toe-spring and stability. The Deviate Nitro Elite 2 stands shoulder to shoulder with other top carbon-fiber plated shoes used by runners for performance-focused training and achieving personal bests on race day.
Stats-
SUPPORT LEVEL - Neutral Support
WEIGHT - 262g
HEEL TO TOE DROP - 6mm
SUITED FOR - Race day or performance-oriented runs.
Price - Rs 15,999/- (On sale it can go as low as Rs 8,000/-)
Our Verdict -
If you are looking for a performance and hit PB for your next race, Deviate Nitro 2 is for you. There is no denying that carbon-fiber plate shoes are known for their performance and Puma has done it well with Deviate Nitro 2.
Buy from
Amazon - Click here
Puma India Store - Click here
Flipkart - Click here
Finally, after more than 2 years of launching the Nitro Series, Puma India is now actively promoting and marketing its Nitro series shoes. With active promotions and sales run by the Puma India team, the Nitro series has become one of the most attractive running shoes available in the Indian market.