"Running is me-time" [Divya's Accomplishments listed]
DIVYA TYAGI, 36 yr. old plant lover and a basketball state player (in school) she is also a marketing head at Solv. She has been in the fitness world of gymming for over a decade and kick-started her running journey in COVID. With lockdown being imposed and the gyms being shut, she resorted to running to keep herself fit and engaged. She describes herself as a morning person and prefers to start her day by running.
Running for me is like - me time.
"Running for me is like - me time."
Divya googled running clubs in Bangalore and came across PaceMakers. With time, her knowledge and experience grew stronger which made her more passionate about running. In this period of 2.5 yrs., she has completed 10-15 half marathons, 5K, and 10K, and is blessed with 2-3 podiums. She is currently training for her full-fledged Tata Mumbai Marathon on 15 Jan.
She commences her day at 4.30 am for training from 5 am - 7 am; she is off to work and goes to bed by 9 pm. Strength training thrice a week, runs a week and Saturdays are recovery days by cycling/ swimming. This routine has made her composed.
Being a creative person, running is the only time I can think about marketing campaigns.
She recounts the Bangalore half marathon '21 as having the most strenuous route but was one of her best runs accomplished in 1 hr. 58 min. She reminisces about the Mysore 10K as she finished in just 51min and also got a podium.
She claims the race day to be completely different from the training day. She was located in Bangalore, a place that's blessed with the best weather but attempting a half marathon in her hometown, Delhi didn't go well as it was subjected to extreme humidity. She missed her target of finishing the race in 2hr by 2 min!
Every day ain't your day.
She is grateful to be a part of a motivating, supportive, and inclusive community. She feels proud to be recognized by people not only in her city but in other cities like Bangalore, Pune, and Delhi for her running achievements. She gives credit to her husband for always supporting her and compromising on his Friday nights for her Saturday mornings. Her physiotherapist cousin was delighted to discover her running career. She wants to encourage and motivate people around her to take up running.
The cost that I had to pay is worth the price I'm enjoying right now.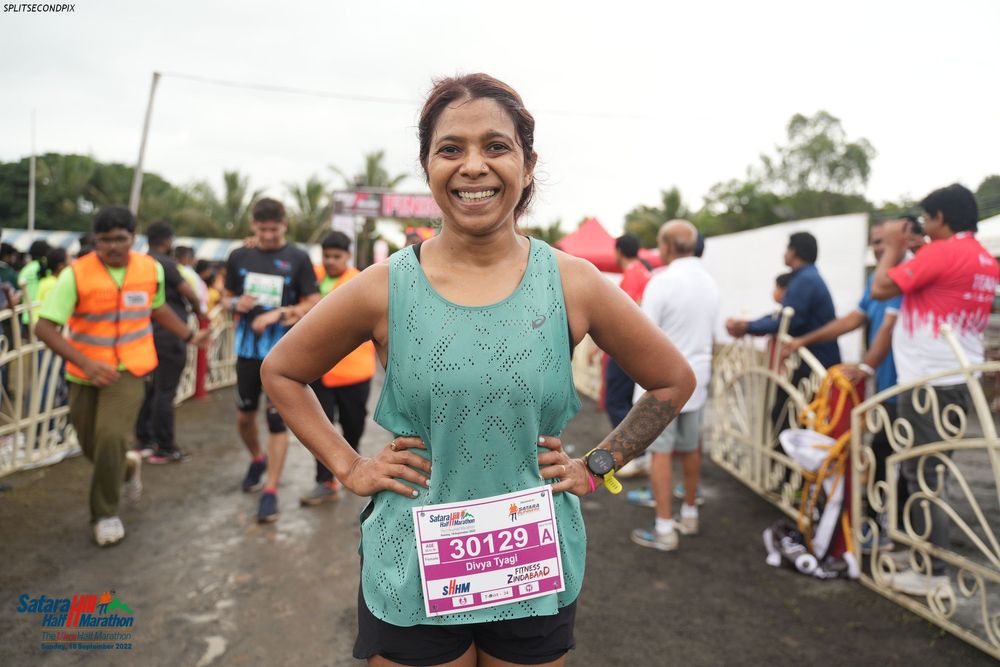 The basic guidelines for running according to Divya are:
Patience

Discipline

Consistency.

Compatibility within the group (if any).

Take care of your vitamins and overall food intake.

Don't starve yourself from craving.

Listen to your body.
The basic guideline Divya has been following for the big day are
Before the run - carb loading.
During the run - hydration (water/gels), running gear, and apply Vaseline cream to avoid chafing.
After the run - give your body time to recover.
We used to do treadmills in the gym, that's also a form of running only! Road running over treadmills, any day.