𝐃𝐞𝐞𝐩𝐚𝐤 𝐂𝐡𝐡𝐢𝐥𝐥𝐚𝐫 - Defines That You Can Start Anytime
Deepak Chhillar, a resident of Bahadurgarh, Haryana who is a business manager for a pharmaceutical company in Delhi, never allowed his passion for ultrarunning to fade. He is one of the founding members of the Bahadurgarh Runners Group (BRG).
Deepak has participated in many events all over India since he first took up running – HMs, FMs, Ultra runs including two 12-hour Stadium runs and has also been a Pacer in different events to help other runners to achieve their targets.
THE PHOENIX MOMENT
Despite being an active sports enthusiast in his youth daytimes, he sacrificed his sporting pursuits for his professional obligations. The passion for sports, however, never faded. But as soon as his lifestyle became monotonous and dull, he resolved to start running.
He experienced his phoenix awakening. He was 30 years old, not exercising, and cheering his friends while they were running a marathon. Seeing people who were older than 70 running at that time was encouraging. With just one look, he knew that if nothing changed, by the time he turned 70, he would be completely immobile. He decided to transform his lifestyle on that day.
He committed to starting running and training himself for a marathon the following year. And through hard work and determination, he did finish the marathon on schedule.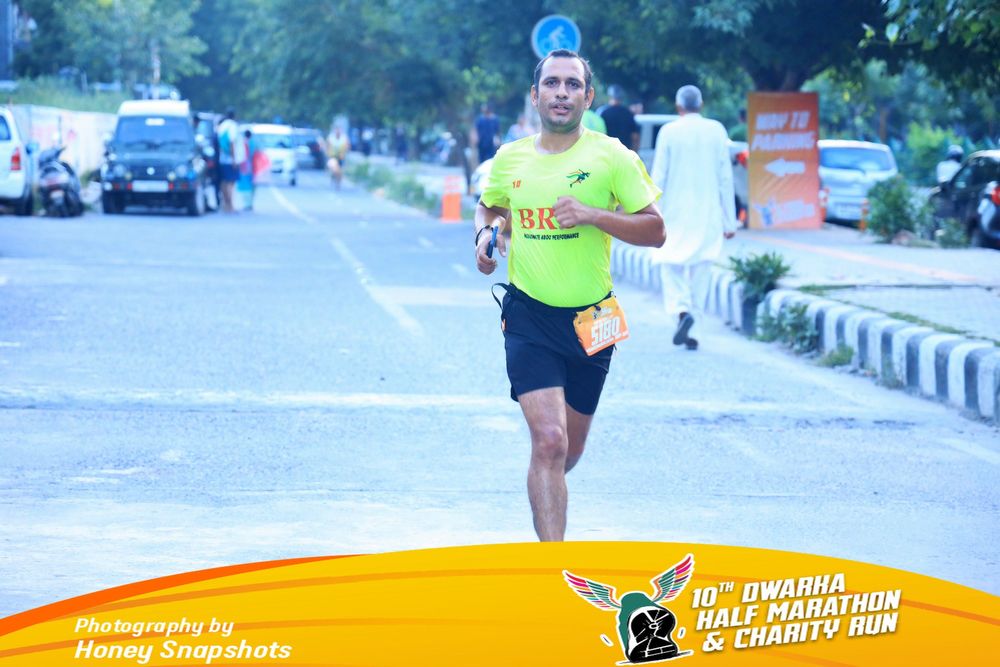 Running is the best gift I have received because it has changed my lifestyle, and I feel great about it.
𝐇𝐞 𝐡𝐚𝐬 𝐛𝐞𝐞𝐧 𝐚 𝐏𝐚𝐜𝐞𝐫 𝐟𝐨𝐫 𝐦𝐚𝐧𝐲 𝐇𝐚𝐥𝐟 𝐌𝐚𝐫𝐚𝐭𝐡𝐨𝐧 𝐞𝐯𝐞𝐧𝐭𝐬 𝐬𝐮𝐜𝐡 𝐚𝐬:
Greater Noida Ride & Run, Greater Noida. Up

Punjab HM, Chandigarh

Vivekananda Vishvaguru Bharat Run, Delhi

BSF Half Marathon, JLN, Delhi

Wake up Run, Bahraich

Noida Grand marathon, Noida

Faridabad Half Marathon, Haryana

Run for Humanity, Indrapuram, UP

Universal Runner Half Marathon, Gurgaon
and much more
𝐇𝐢𝐬 𝟒𝟐 𝐤𝐦 𝐩𝐚𝐜𝐢𝐧𝐠 𝐞𝐯𝐞𝐧𝐭𝐬 𝐚𝐫𝐞:
My Country Flag Run 2018, Gurgaon

IDBI Marathon Feb 2020 Delhi

AU Bank Marathon Jan 2020, Jaipur
𝐇𝐞 𝐡𝐚𝐬 𝐚𝐥𝐬𝐨 𝐛𝐞𝐞𝐧 𝐀𝐦𝐛𝐚𝐬𝐬𝐚𝐝𝐨𝐫 𝐢𝐧 𝐦𝐚𝐧𝐲 𝐞𝐯𝐞𝐧𝐭
Born 2 Run, Delhi

Bhatinda HM, Punjab

Crain Pink City HM, Jaipur

AU Bank Jaipur Marathon, Jaipur

Freedom Run, Dwark

Gwalior City Run, Madhya Pradesh

Air heroes Half Marathon, Delhi

Tuffman Desert Half Marathon, Jaisalmer, Rajasthan

Navratri Run 2018

India Flag Runners, Chandigarh

HDOR 2020

International Yoga Day

Daily world marathon, Mohali

Daily Fitness, Moderator

WTC Tricolour Run 2020
and many more
Remarkable Achievements
He was the Flag Marshal at the Vandematram Run on 26 January 2020.
He was the Torch Bearer at the Faridabad Half Marathon on 16 Feb 2020.
Hard work doesn't bother me, I actually enjoy facing the challenge.
For Deepak, running a marathon typically involves defining a time target, which challenges him to run fast and competitively while maintaining his attention on that pace over the entire distance. It necessitates a considerable amount of physical and mental energy. And because ultra marathons are for him about completing the distance irrespective of the time, he finds them to be extremely liberating. He moves more gradually and has more strength of mind to take on the journey.
His favorite Runner is Eluid Kiphoge because he is simple and down to earth.
Here is a list of the Ultra marathons he has taken part in:
300 Hell race challenge, 2020

200 km sher Punjab tiltle, 2020

100 km India Flag Run, Nov 2020

100 km Delta Run, Manesar

24-hour stadium run, Dec 2021

12-hour Stadium Run in 2017-18 & Tuffman Stadium Run 2021 - 4 times covered a maximum distance of 98 km,

Two-time Trail-A-Thon in manger Jungle

12-Hour Lucknow Circuit Run secured 3rd position in the Male category Overall First position.

Cham challenged Kota 63 km in Jan 2018 with a 10 Rank

TMM Tata Mumbai Marathon 42km, 2018
and much more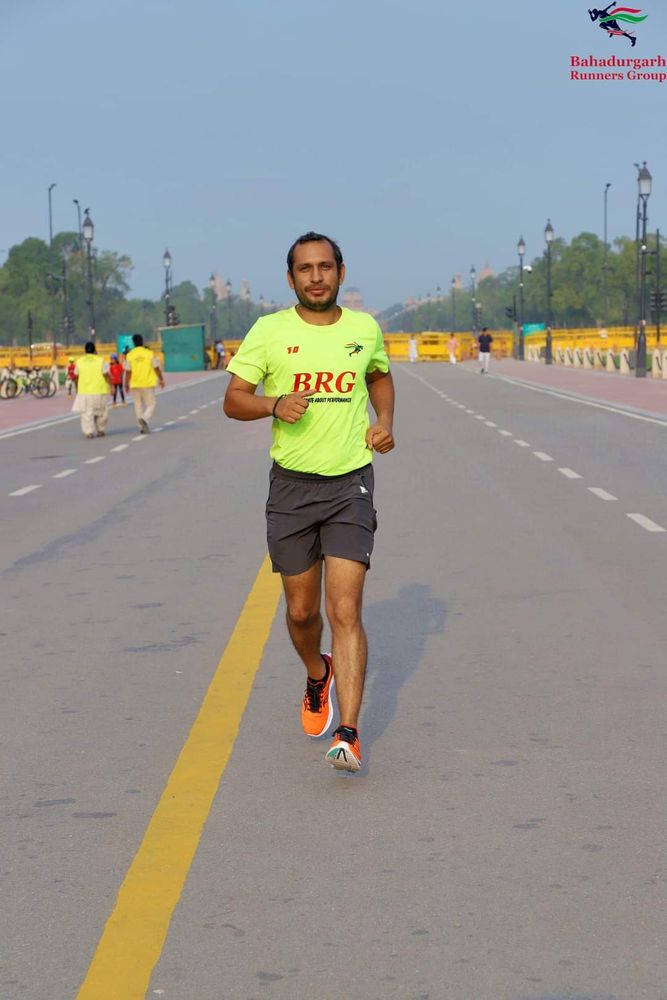 Running- Brings Positivity To Your Life
Deepak believes running is a complete bundle comprising a healthy lifestyle, discipline, and confidence. Additionally, he is less stressed right now, and procrastination has no place in his life. Running, according to Deepak, keeps him more energized and motivated throughout the day. Additionally, his social network has grown and improved, and he now associates himself with incredible people.
Deepak shares his personal experience competing in the 1st edition of the 13*13km Baisakhi Challenge.
In the Baisakhi Challenge, he had a podium finish. He completed a total of 365 km.
You had two options:
Run a minimum of 13 km every day for 13 days.
OR
Run 1km on the 1st Day, 2km on the 2nd Day, and so on till you conclude 13km on the 13th day.
He chose the first option, up until the sixth day, which was nothing less than dreadful, the first couple of days were boisterous and delightful.
It's not simple to get up, run 25 kilometers, and then go back to work, so at one point he wanted to give up.
But after the seventh day of the challenge, he discovered a new force inside of him that pushed him to finish it. "Deepak you are stronger than your excuses," he reminded himself. He continually told himself his reason for starting this and his level of passion. He had to pinch himself to realize that everything is possible once you make up your mind. And it was this that encouraged him to continue pushing despite his negative thoughts.
Because running is both a physical activity and a mental challenge, Baisakhi Challenged also assisted him in building mental toughness.
He now keeps himself focused when he encounters new difficulties in his career.
Here is the list of the Podium finishes which Deepak achieved:
1st position in 13 days of Baishakhi Running Challenge in the consistent year 2018 covering 356 km

1st position in New Delhi timed Run Challenge 2019 ( Hindustan marathon) in 5 km Distance

2nd position in the Male category in Summe Run Jaipur. 2018

1st position in 13 days Baishakhi Running Challenge in the year 2019 coveriing 402 km

3rd position in I can Run -Breast Cancer Awareness Run at Decathlon Dwarka

3rd position in 50 Days Running Challenge in 2018 covering 1641 km running 2018.

First position Decathlon 7 Days Running Challenge, Rohini July 2019

Overall 4th in the 100 days Running Challenge HDOR 2018, covered 3304 km out of more than 10,000 participants globally.

The 13th Rank in HDOR 2019, covered 3567 km running respectively out of more than 15000 participants.

2nd position in Starry Night Run in Gurugram in his age category

2nd position in 50 Days Running Challenge in 2019 covering 1830 km running, 2019.

2nd position in his age category in Vatika Half Marathon in 44 minutes

Podium Finished (1st ) in Alsic Family Run Gurgaon 2020 in Age Category

Podium Finished (1st)in Alsic Family Run In Couple Category 2019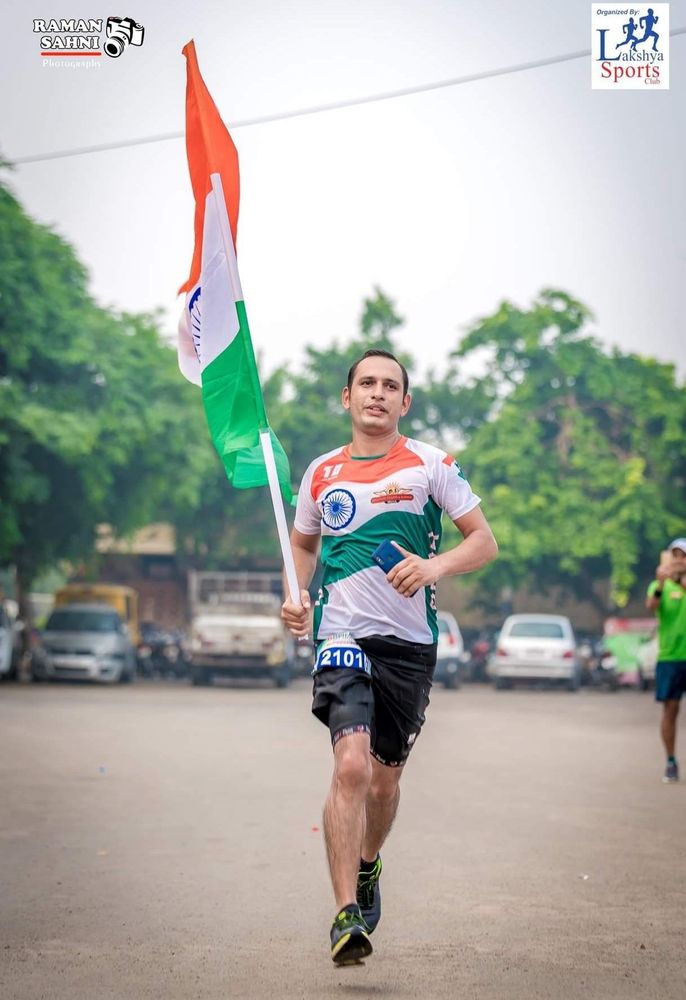 Deepak recounts one of his favorite running moments
He completed the Hindustan 10 k challenge's 5k race in the fastest time. He ran at a strong pace for the first two miles of the race, which were also his fastest, and then he ran at his fastest pace of the entire race for the final one mile. One of the highlights of his short Distance run was completing the race strongly since it felt fantastic to finally stop being the one trudging along in pain. In the end, he achieved a personal best time and a podium place.
Here is the list of his Personal Best Timings:
1. Chambal Challenge (63km) in 2019-6:54 Hrs.
2. Full Marathon( 42 km) MCM 2018 4th Edition --- 3:52 Hrs
3. Half Marathon ADHM 2019 (21) --- 1:38 Hrs
4. 10k Hari Bhumi Marathon, Rohtak --- 42 Min
5. 5 km Hindustan marathon Time trail--21 min
Challenges he faced at the beginning
He didn't have the right coaching when he first started running. Within a month of training, he completed his first 10 kilometers, followed by a half marathon later that month and his first marathon the month after.
He experienced pain, exhaustion, and muscle cramps throughout his first several days of running. He decided to join the Sports Club at that point, following the advice of Asian champion Madam Sunita Godara Ji.
This was a great assistance to him.
Deepak agrees that these Challenges played an important role in turning him into a more disciplined runner. Rather than describe himself as a "Run Addict", Deepak would prefer to say that running has now become a "𝐇𝐚𝐛𝐢𝐭".
He claims that long-distance running is purely a 'mental game'. If you have confidence in yourself, you can achieve anything.
Consistency is the Key
When asked how many kilometers he runs each week, he responded, "it depends entirely on which marathon he participates in the next.
Weekly distances of 45 to 60 km for a 10k run, 65 to 75 km for a half marathon, and 80 to 90 km for a full marathon." He adheres to a weekly distance and training regiment.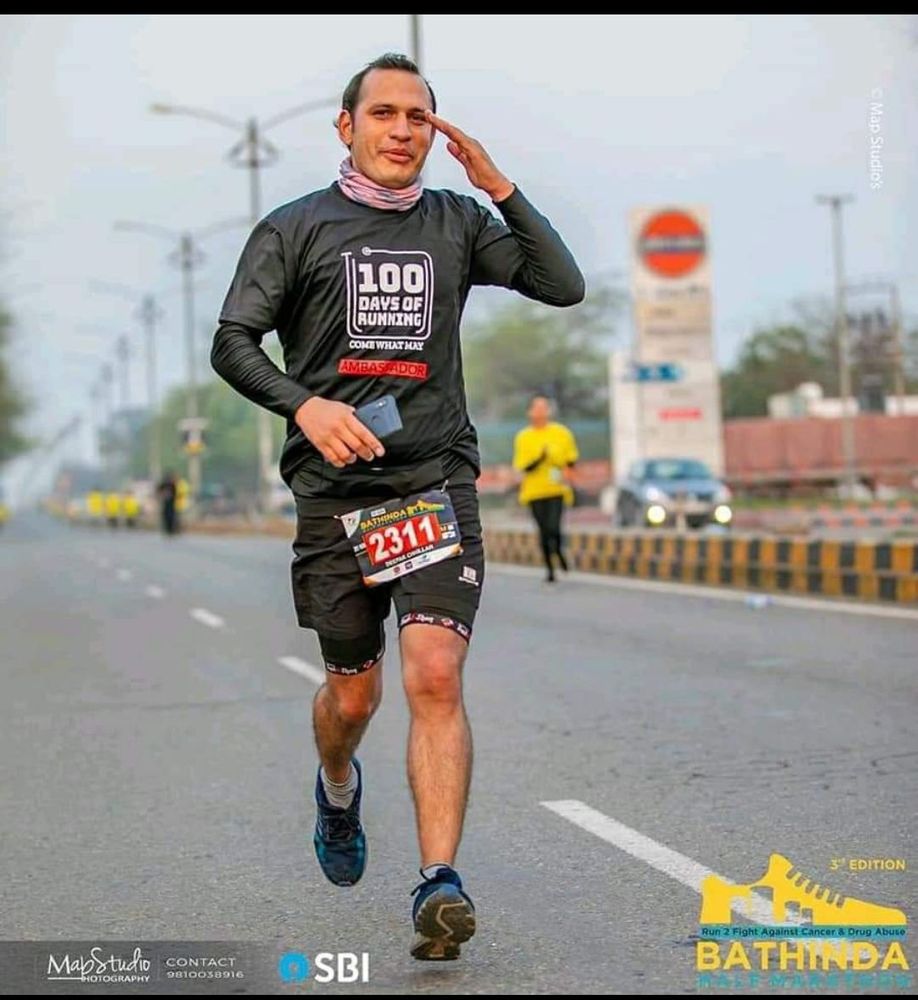 "Running is the best gift that I have received because it has changed my lifestyle, and I feel great about it."
He advises all runners to
1. Belief in yourself. Learn & enjoy what you do.
2. Age is just a number. Train yourself
3. Eat Healthy & enjoy Running
4. We are lifestyle runners. We run to be fit & healthy. So Go slow & steady
5 . Rest properly
The list of some of the impressive accolades received is provided below.
𝐈𝐧𝐝𝐢𝐚 𝐒𝐭𝐚𝐫 𝐩𝐫𝐨𝐮𝐝 𝐀𝐰𝐚𝐫𝐝 𝟐𝟎𝟏𝟗 𝐟𝐨𝐫 𝐇𝐚𝐥𝐟 𝐌𝐚𝐫𝐚𝐭𝐡𝐨𝐧, 𝐟𝐮𝐥𝐥 𝐌𝐚𝐫𝐚𝐭𝐡𝐨𝐧 & 𝐮𝐥𝐭𝐫𝐚 𝐑𝐮𝐧

𝐈𝐧𝐝𝐢𝐚 𝐒𝐭𝐚𝐫 𝐈𝐜𝐨𝐧 𝐀𝐰𝐚𝐫𝐝 𝟐𝟎𝟐𝟎 𝐟𝐨𝐫 𝐑𝐮𝐧𝐧𝐢𝐧𝐠

𝐔𝐭𝐭𝐚𝐫𝐩𝐚𝐫𝐝𝐞𝐬𝐡 𝐰𝐨𝐫𝐥𝐝 𝐑𝐞𝐜𝐨𝐫𝐝 𝐅𝐢𝐭𝐧𝐞𝐬𝐬 𝐈𝐜𝐨𝐧 𝐀𝐰𝐚𝐫𝐝 𝟐𝟎𝟐𝟎

𝐈𝐧𝐝𝐢𝐚 𝐒𝐭𝐚𝐫 𝐈𝐧𝐝𝐞𝐩𝐞𝐧𝐝𝐞𝐧𝐜𝐞 𝐀𝐰𝐚𝐫𝐝 𝟐𝟎𝟐𝟎 𝐨𝐧 𝟏𝟓 𝐀𝐮𝐠𝐮𝐬𝐭

𝐖𝐨𝐫𝐥𝐝 𝐏𝐇𝐃 𝐂𝐡𝐚𝐫𝐤𝐡𝐚 𝐀𝐰𝐚𝐫𝐝 𝟐𝟎𝟐𝟎

100 km India Flag Run In Nov 2020

International Fitness Award June 2021,2022
Appreciable Work in the Field of Running and Fitness
(we are registered and appreciated by Aryaveer Yog Avm Prakrutik Chikitsa Sansthan, Yoga Certification Board, and Ayush Ministry)
India Star Independent Award 2022, on the occasion of Indian Independent Day 15 August 2022.
You can always pursue your passion regardless of your age or professional career, as Deepak Chillar is a perfect example. Simply look for the perfect opportunity, grasp them, and pursue your interests.