Balancing Between Asthma and Lifelong Love for Running
Piyush Gada, 23-years-old, is a certified fitness trainer and yoga instructor. He handles his family business and aspires to train people for fitness alongside. Talking about his journey, he mentions that he never thought of getting into the discipline of fitness and running as he is an asthma patient. He started with simple walking and jogging. He soon grew fond of it and started to run more often. He had no prior knowledge of marathons, ultramarathons, or any such running event. One day he went to an event near his home where he ran 10 km. After this, gradually he started to get more knowledge about these events, races and the running community too.
Talking about asthma and how it affects his life, he says that he works out daily and runs too, and this keeps his asthma in check. Though there's no way to completely get rid of it, it can be stabilised. He doesn't keep an inhaler with him at all times except when he is going somewhere for a long period of time. Though an inhaler is important, it is not something on which he solely depends or without which one just can't continue his/her daily life.
"Working out, cycling and running regularly keeps my asthma stable."
In February 2020, right before the pandemic, he covered a distance of 21 km which he considers to be his first proper running event. It was a Maharashtra Police Half Marathon event which started from Mumbai Sea Link and finished at the Gateway of India. His experience was wonderful. Afterwards, he started to know more about running. Initially people think that one just needs to run and that's it, while it's not the complete picture. He too was not completely aware of all the aspects of running but he went on to discover later that there are concepts such as strength training, hydration and nutrition too which are equally important.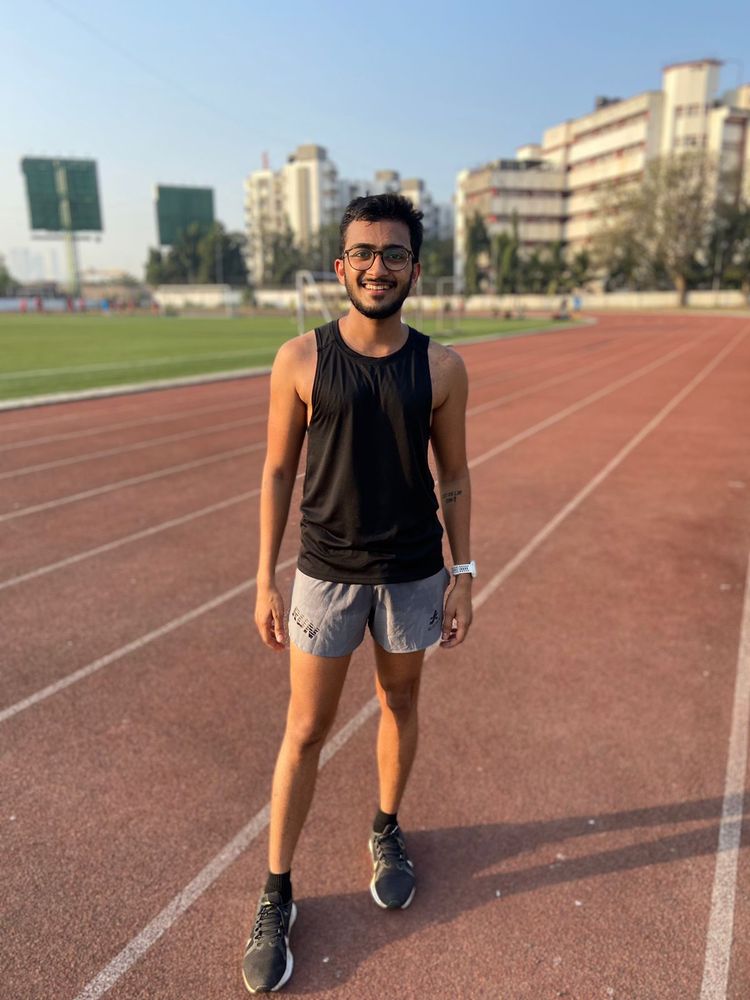 "The only goal of running is not speed; there's a lot more to it than just the speed."
His family and friends did support him in his journey but he also feels that he is motivated from within to run and pursue what he wants to. This way his inner state matters more than any external support. External support does add to the motivation.
Piyush is now pursuing certification to become a coach. He enjoyed the running activity which is why he realized that this is the field out of which he wants to grow his career. He says that he enjoys training more than the events. Apart from the marathon running certification, he has a personal trainer and a yoga certification already. He has started his coaching with the name From Lazy to Fit.
"Everything about running excites him, be it the training part or the event part."
Suffering from an injury himself, he talks about the importance of recovery in a runner's life. He feels that recovery is very essential for a runner in order to grow properly. Beginners push themselves beyond what their body can handle. It becomes very important for a runner to heal and do things at their appropriate pace. If someone wants to run a marathon or an ultramarathon, one should start preparing for it 6 months before the day of the event.
About the running community in India, he says that now more and more people are entering the world of running, races and fitness. Running as a sport is growing in our country. Still, in comparison to the other countries we are somewhere lagging. There's room for improvement in terms of the organization of the running events.
Tips by Piyush Gada for Beginners:
Don't try to overdo things in the beginning, you will learn gradually.

As a beginner, you don't need to worry about the pace at which you're running.

The only goal of running is not speed.

The understanding of this sport comes with time. This is why you should give adequate time to the process.

Piyush Gada's Personal Bests -

Edited by - Rishika Bajaj