An Army Man to an Ultramarathon Runner and Coach
Avinash Chimanka, 33 years old from Cuttack, was in the fauj for five years before getting released and pursuing a career in running as a sport and becoming a coach. He did his graduation in law from Cuttack, after which he moved to Delhi to do post-graduation. After this, he joined the armed forces, for which he received 11 months of training in Chennai. Avinash is a lawyer for the Indian army in the department called Judge Advocate Generals Department. He was commissioned into JAG and served at three different locations – Leh, Chandigarh and Shimla, and got released in five years to pursue a career in some other field.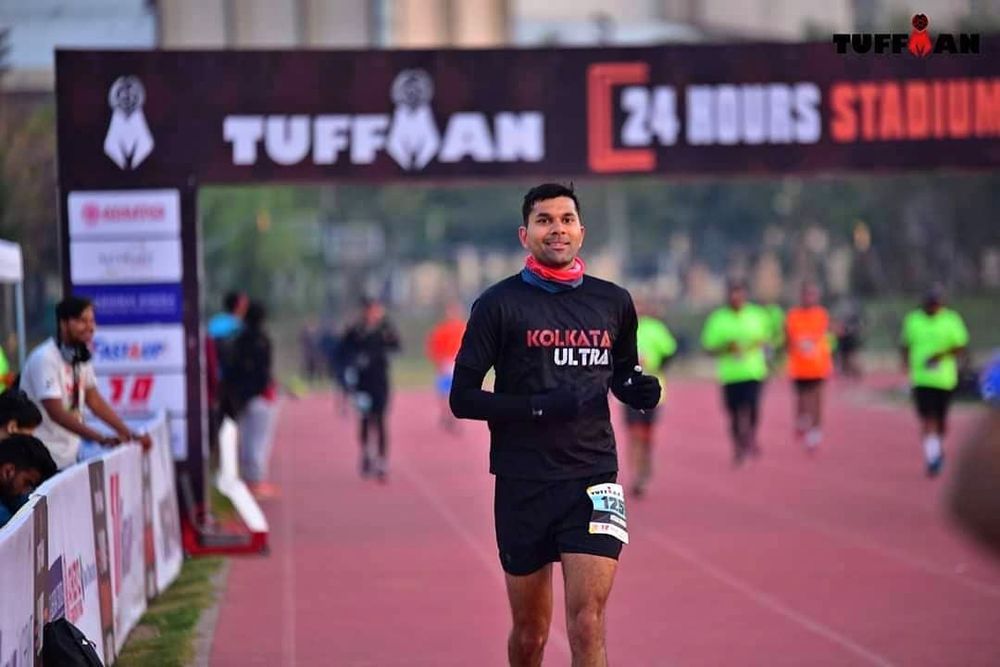 He was always into running in school and college days as well. During his stay in Delhi, he found out about short-and medium-distance races. He learned about the prestigious Airtel Delhi Half Marathon event which is one of the top marathon events in India. In 2012 he registered for it to understand what half marathon is all about. For this, he trained and coached himself for about three months and clocked 1 hr 51 mins as a first-timer.
Avinash at that time, a decade ago, didn't know about any fancy shoes or gear to carry. He had a casual approach towards his first run. Also, there were no means and sources available to get all this information or to approach people. Someone, after seeing his performance, nudged him to do Sub2, which he wasn't aware of at that time. He did it but wasn't able to move or even attend college for 3-4 days after that.
"Endurance is one factor that always appealed to me."
Delhi opened up a lot of avenues for him. When he joined forces in 2013, he knew he had to do a lot of physical training and activities. Fauj training is completely different; it is more of a mental game. He was made the Cross-Country captain of his company. In cross country, they had to run a 12-km race where they ran across rivers, terrains and hills, and for that, the best time was 38 mins. Competition is really tough and one has to prepare accordingly. And there's also 2.4 km for which the runner has to complete it within 9 mins to fall into the excellent category. 5km race which has to be completed within 25 mins. There's also BPET (Battle Proficiency Efficiency Test) in which they are required to run wearing combat and carrying rifles.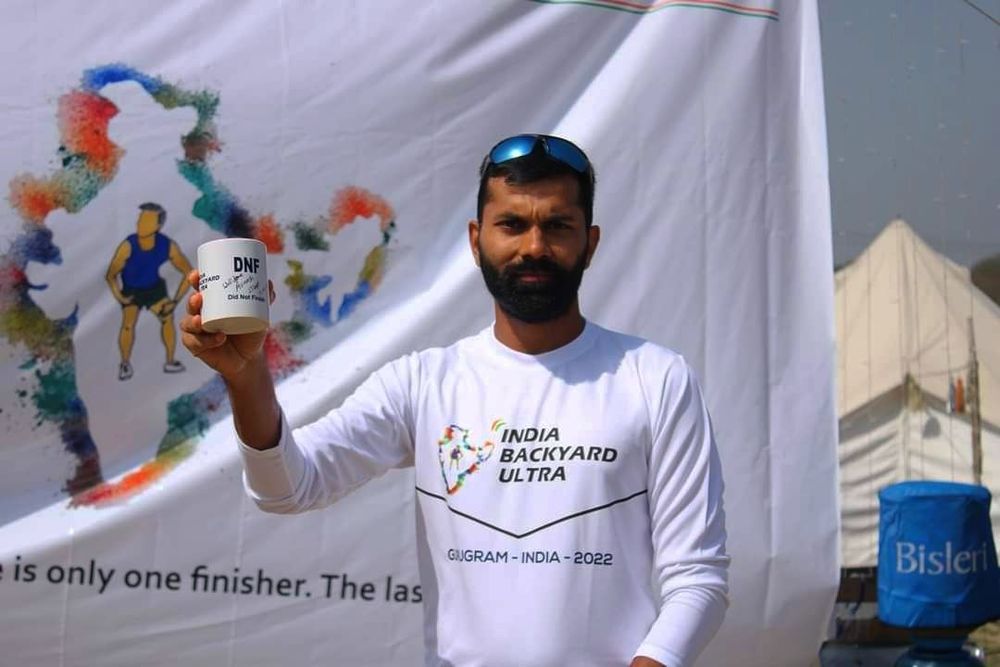 In 2016, he was posted to Chandigarh, one of the hubs for running events, where he did a few half marathons. Then he went to Shimla, where again the weather and elevation were suitable. Thereafter, he started looking for what to do next. How to go from doing a half marathon to a full marathon?
He did a full marathon in Airtel Full Marathon Hyderabad in 2017, where he realised it's a different game altogether. Running the first 21 km was easy but then he struggled a lot to finish the run which he did in 4 hr 12 min. It was then he started training under coaches. Currently, he is training under Nivedita Samanta, based in Delhi.
"This (running long distances) has to be structured. It cannot go random. It cannot be haphazard."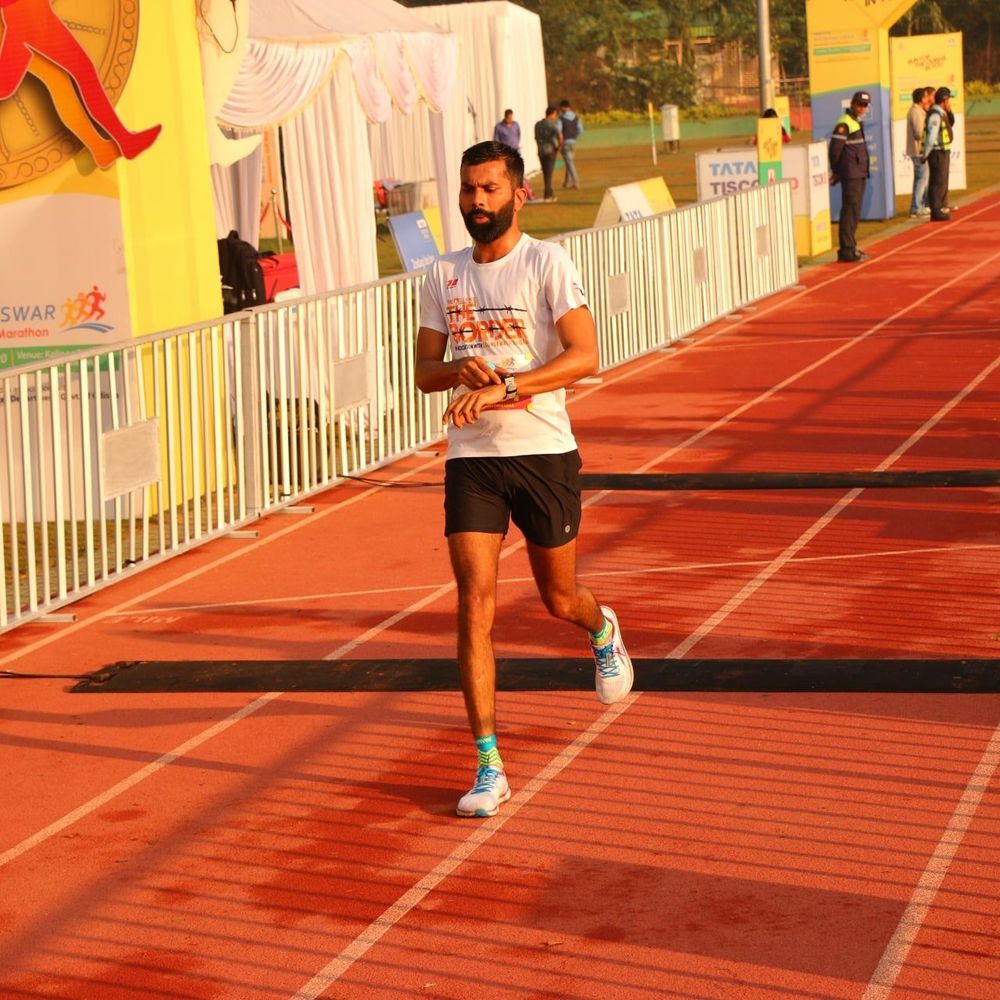 Then came the turn of running ultramarathons. He ran the first ultra 60K in Kolkata in 2018. The turning point of his career was when he did 100K from Jaisalmer to Longewala where he finished first and recorded the time of 11 hr 41 min. It was fun; he enjoyed the process of training and the execution as well. In September 2019, he had taken release from the forces which was a conscious decision to pick an alternate career and to explore the opportunities the world has to offer.
"Being in fauj not only helped me in my running journey but in my whole life journey as well."
One leads a disciplined life in the army, and one can achieve anything with discipline. Another element was consistency which he learned from the army and that instilled confidence in him. He used to train in fauj despite being deprived of sleep. They were trained under extreme circumstances. Once extreme circumstances were faced, running a marathon seemed relatively easy. Also, during his time in fauj, he met veterans who shared their experiences and motivated him.
"Fauj instilled in me the philosophy – Go get it; whatever is the cost. Once the goal is set, you have to accomplish it."
Now, he is pursuing running as a sports career. Running as a sport in India is very niche. In comparison to the US, Europe, Australia, India, setting up a career in running in India is comparatively difficult. Though the community is growing in India but he doesn't see it growing as rapidly in the next decade or so. He aims to balance his running career and coaching career. Sports shoes and apparels brands are looking for endorsers but that takes time. So one has to be patient for the career to grow organically.
He felt that there was nobody to guide him to the right ways or means to go ahead. Everyone is focused on oneself rather than helping others, except for friends who help out and guide in the right direction. When asked about any tips for runners, then he says, "Take it slow. Especially for amateur runners. Don't rush into it. Don't jump from 5K to Half Marathon directly. Increase the distance gradually."
Avinash's next aim is to get qualified for India Backyard Golden Ticket, which is in October. And another run is Border 100 miler which was timed 20 hours 25 mins last time and now aims to reduce the timing. Bhaago India wishes Avinash the best for all his future runs!
Avinash Chimanka's Personal Bests -
FM - 03:08

100K - 10:27

100 miles - 20:25

Longest run - 180K
Edited by - Gunjan Rastogi