The day I don't run, I feel incomplete. - Megha Kishore
Megha Kishore, 37 years young, works as a Business Analyst in an IT Company in Gurgaon. She is passionately in love with running, along with being a Yoga enthusiast and fitness lover. Running is something that Megha started to do in 2020 during the lockdown when someone from her office introduced her to a women's 5K running event. She was clueless about running at that point of time. She went for it and completed the run in a good time but after that, her body just couldn't work for the next one week.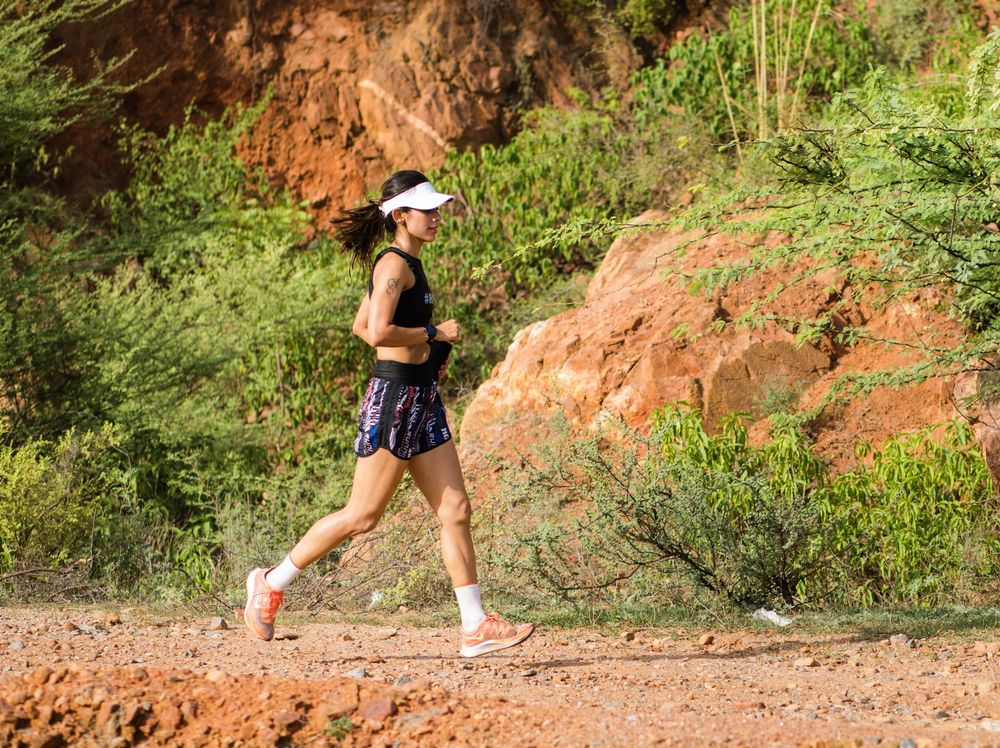 "I have always liked to keep myself fit. No matter what happens, I always take out time for myself."
After a few months, the Airtel Delhi Half Marathon was going to be held. Her office wanted some people to volunteer for the same. Megha wasn't aware about the actual vastness of 21K and volunteered to participate. She was very excited and during the event she enjoyed every moment, stopping at all the water stations and enjoying the run. She didn't undertake any training and covered 21K. This is how she participated in such events afterwards.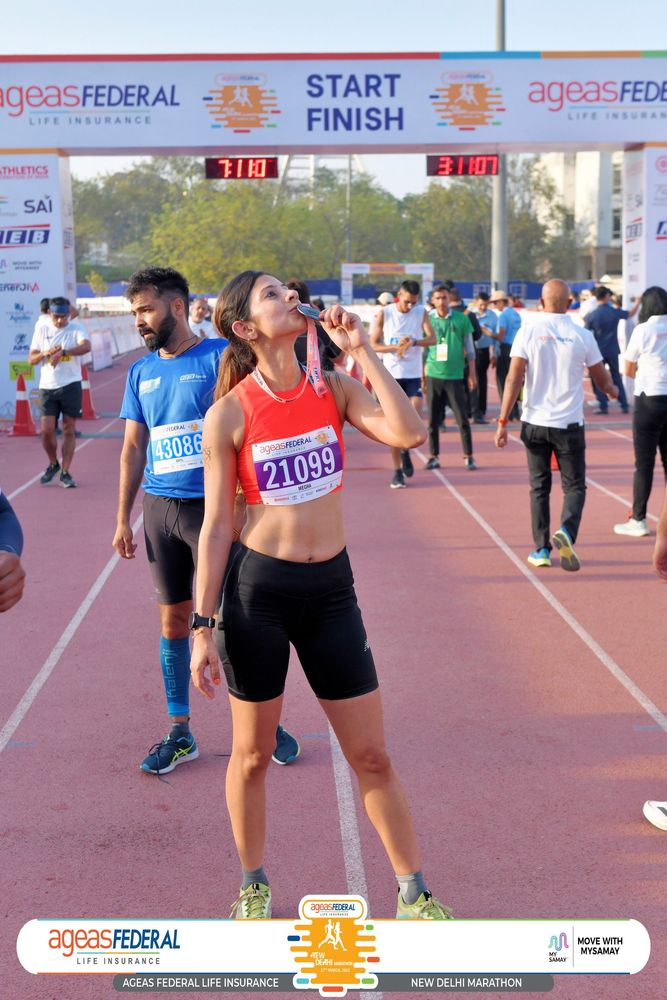 "The day I don't run, I feel incomplete."
In 2020, the gyms were closed during the lockdown and then, she started to run out and realized that she is really enjoying this activity. Running started giving her satisfaction and soon a passion for the sport developed. Megha then got to know about the terms like pace, distance and easy run. She joined a group called Indrapuram Runners and used to train with them. The fear she had of running 10K, 15K vanished when she started to run with the group. This continued for a month and then Megha went back to the UK for her work.
"When you get deep into something, you start to learn the technicalities of it."
Talking about her running experience in the UK, she says that it is a place where you can run anytime. The weather is pleasant and you'll see natural beauty everywhere. Megha then started working on her pace and training properly. She was doing solo training including speed workouts, long runs, etc. Her distance started to increase and she realized that her pace is getting better.
"I don't want to do anything just for the sake of it. If I want to do some activity, I will try my best to gain something out of it."
Comparing the running atmosphere of India with abroad, Megha says that in our country there is a need for the people to accept that women too can have passion for running and they can wear the clothes of their choice for running. Women feel this fear of being judged by the people around them for wearing shorts and other clothes that they want to wear. People should realize that this sport is not limited to only one gender. Society should give women all the support and make them feel safe.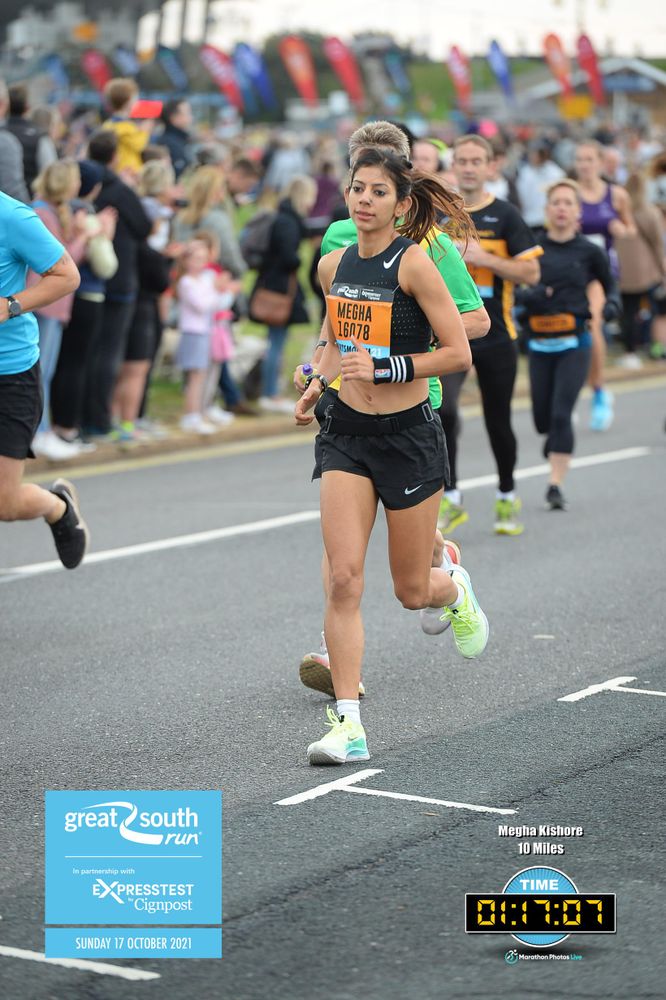 "Nobody is going to give you your time. You have to fight for it and stand for yourself."
About her family support, Megha says that initially her regularity for running was a shock to her family. People take time to adjust to new things and so did her family. They slowly started to realize that she loves this activity and Megha also gave them enough space to understand. Your passion and your family are two different things and one can't overpower the other. She makes sure that she balances everything well. Her family also understands that running is her passion and she needs some time out of her schedule to do what she loves.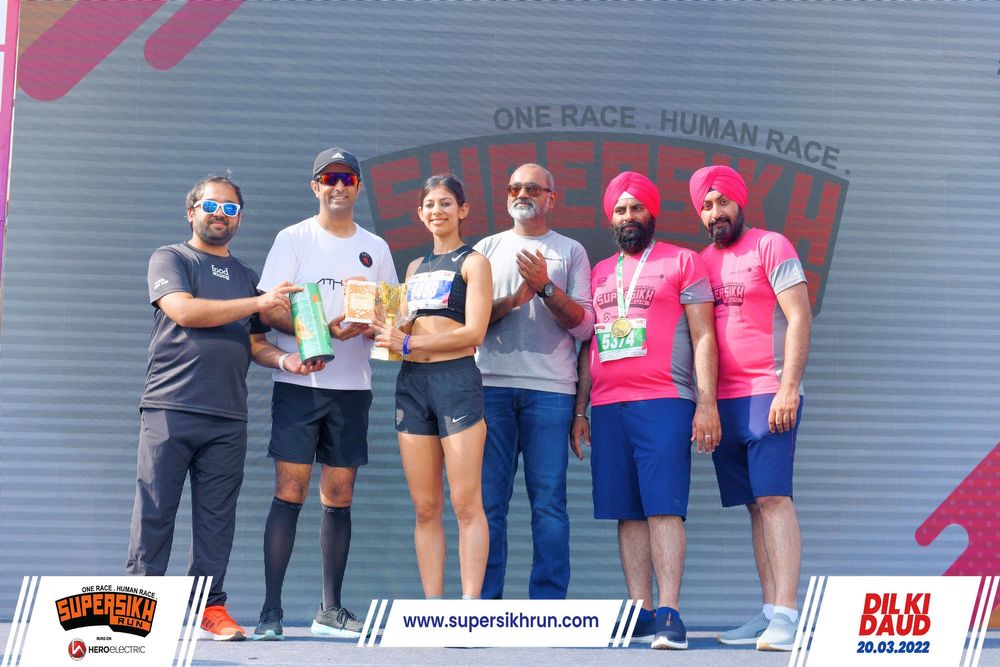 Tips by Megha Kishore:
For the mothers and females:
You have the power. You just have to use it in the right way and do something good for yourself.

You don't always have to keep everyone happy. Listen to yourself. You won't be able to make others happy if your own body is not feeling good.

Take out time for yourself. We all get 24 hours in a day and it's up to us how to manage them. Taking out 30 minutes or 1 hour is doable.

When your priorities are clear, you know what all needs to be sacrificed in order to achieve your goal.
For people who want to start running:
Take slow steps. In the beginning, people want to get the pace. You have to give it some time. Patience and consistency are the keys to growth.

People start with their full force and stop after some time because the body gets exhausted. Your body doesn't know what's happening to it. Give it some time to adapt.

Don't compare yourself with others. Move at your own pace.
For the runners:
Take proper training to improve your ability. Strength training plays a huge role.

Include adequate rest and recovery in your schedule.

Take care of your nutrition including your protein intake.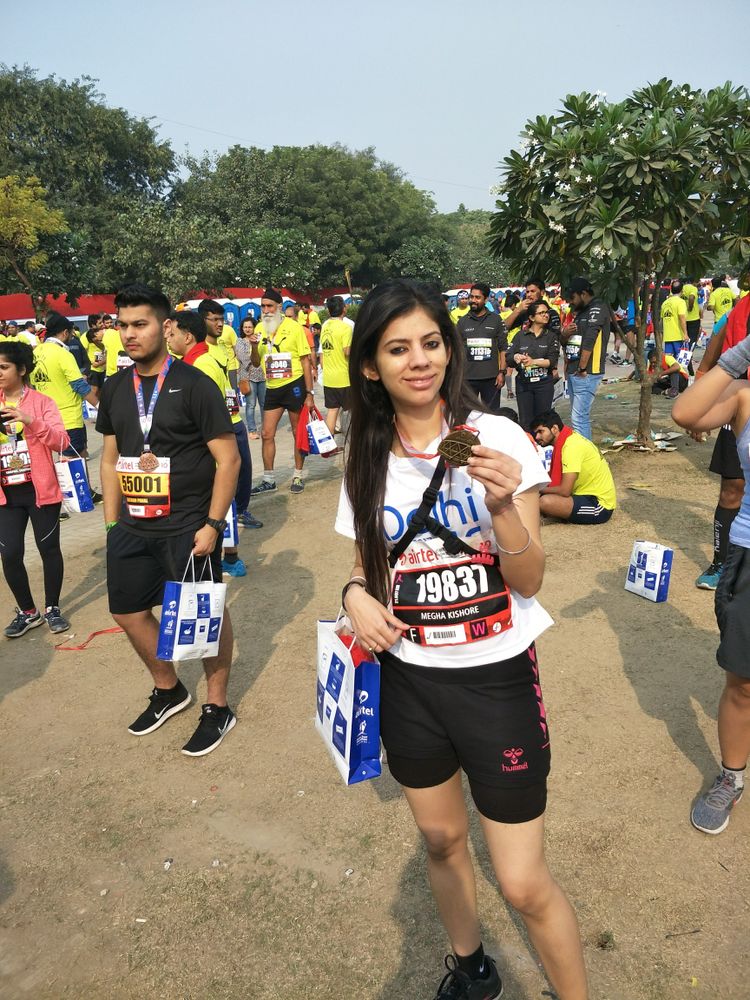 "Patience and consistency are the keys to growth."
Megha prefers participating in limited events and giving her best to that, and is looking forward to running in the Airtel Delhi Half Marathon. She trains with a group which helps her with her workout.
Personal Bests -
| | |
| --- | --- |
| Distance | Timing |
| 5K | 21:11 |
| 10K | 47:36 |
| 16K | 1:17:17 |
| HM | 1:44:54 |
| 30K | 2:39:39 |
| FM | 3:48 |
Other Achievements-
Virtual Virgin Money London Marathon 2021 - 3:48
TRAILOTHON GURGAON 2019 - 2nd Runner Up
ADHM 2020- 3rd Place
VIRTUAL NDM 2021 -1st Place
Fast And Up 5K Challenge 2021 – 2nd Place

Edited by - Rishika Bajaj