Running in the quest for Human Endurance Limits
SUFIYA describes herself as an introverted, goal-oriented person.
The ultrarunner used to work in the aviation industry - ground handling at ungodly hours. This affected her health and made her feel like a machine stuck in a monotonous schedule with no life other than work. Sitting in her office, frustrated over something, she decided to quit and save herself from falling into supposed depression.
In order to get her physical life together, Sufiya started running 2-3 km in a park in her vicinity.
Running is a sport where you don't need to go to a particular place, just tie your shoes and get started.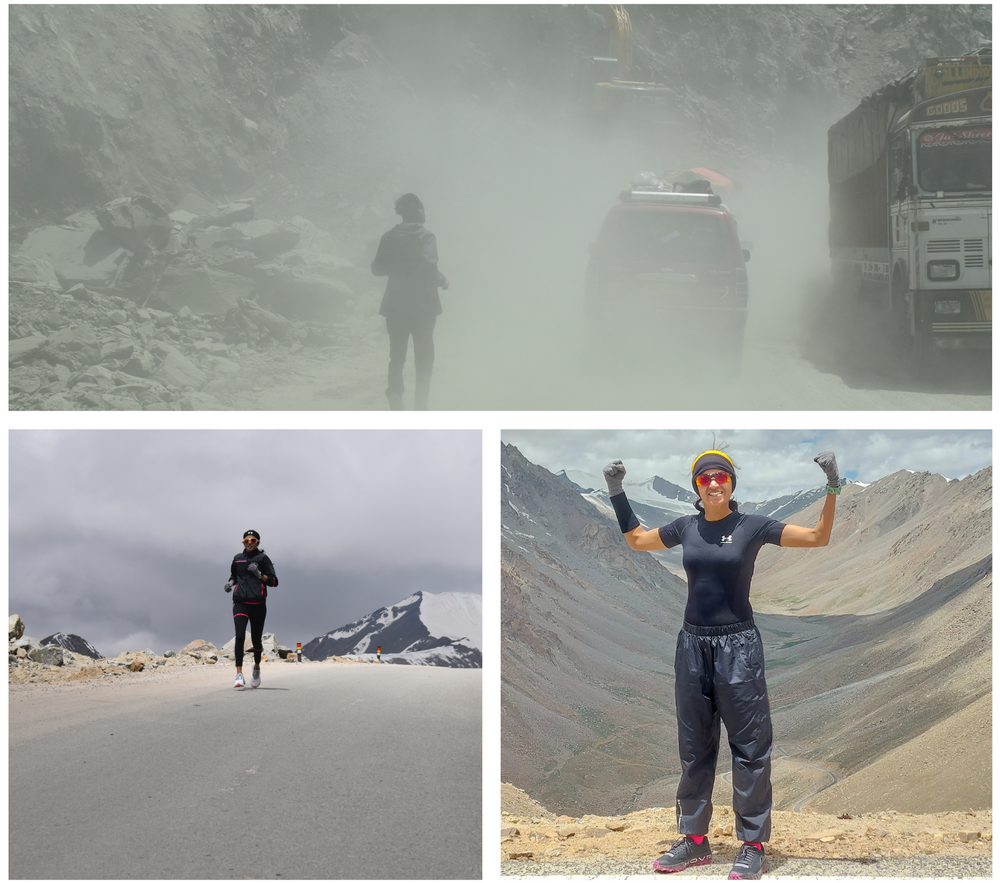 In 2017, Sufiya started running and participating in marathons and eventually developed a passion for ultras as she wanted to test the human body and how far it can go. In 2018, she did her very first expedition, the Golden Triangle, 720 km (Jaipur, Agra, and Delhi) in just 16 days. On completing the challenge she gained the confidence to conquer more.
In 2019, Sufiya accomplished K2K in 87 days and became a Guinness world record holder for being the fastest woman to traverse from Kashmir 2 Kanyakumari.
In 2020, she attempted the Golden Quadrilateral (Delhi, Chennai, Kolkata, and Mumbai) but had to retrieve after completing 2,200km following the COVID lockdown and restrictions. Nevertheless, she gave this challenge another shot in December and finished it in 110 days completing a distance of 6,000km becoming a Guinness world record holder for setting the fastest time by a female to complete the Golden Quadrilateral in 2021.
Mere dimag mein eek zidd thi ki muje yeh karna hain.
Being over road runs, she upgraded to an advanced, more formidable level and did a 485 km distance world's toughest route, Manali to Leh known for its unfavorable climatic conditions in 6 days again becoming a Guinness world record holder.
In 2022, she achieved the Siachen base camp to Kargil memorial challenge as a tribute to the Indian army. She marks this run to be her most memorable and toughest one for she:
Took permissions and acclimatized for 15-20 days.

Had a proper medical support system throughout her route.

Was motivated by the army members.

Learned discipline.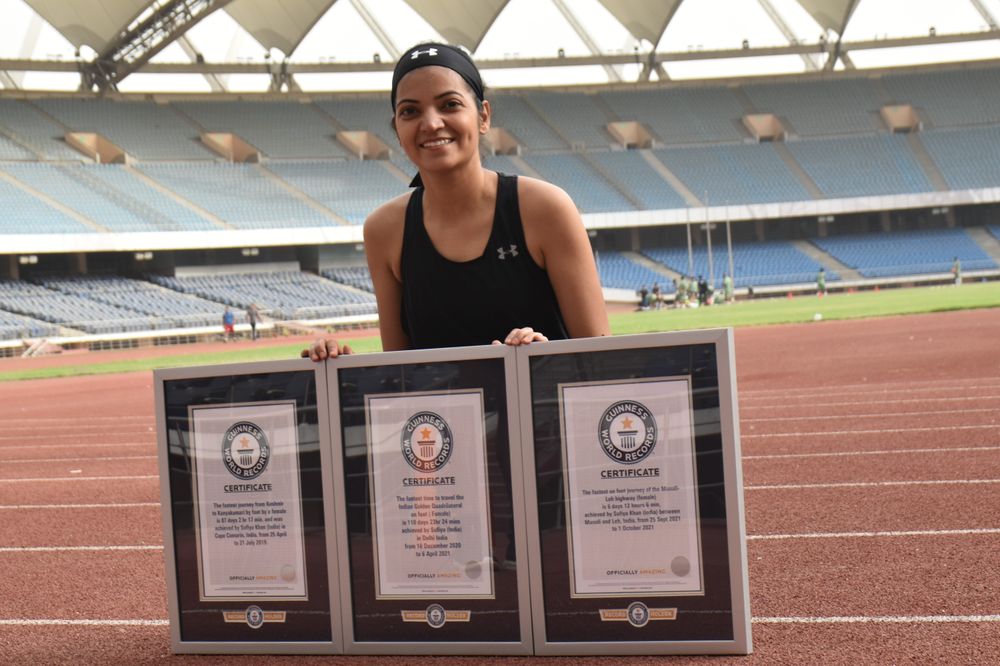 "The battalion at the finish line started to applaud on seeing me get closer & closer towards it."
Sufiya faced a series of professional, financial, and medical challenges:
To select her job or running as she wasn't granted a 100-day leave for K2K.

Started with her own savings and crowdfunding.

Limited resources and knowledge to begin with.

Shin splint on 4/5 day of Golden Quadrilateral attempt, took physiotherapy, and consulted a senior runner who by experience suggested to give hot water massage.

Lung collapse and swelling in gallbladder on reaching Jalandhar for the K2K project. She was hospitalized for 5 days with increased doses of antibiotics for quick recovery.

Dehydration, heat stroke, and low oxygen while attempting Manali to Leh and Siachen to Kargil. She suggests putting water on and in your body.
Mental fitness is the best ingredient and it comes only with experience.
Sufiya has earned a partnership with renowned sportswear brand, Under Armour during her Golden Quadrilateral project.
Sufiya states her biggest and strongest support system is her husband who himself is a Guinness world record holder in cycling. They both worked in the aviation industry having each other's backbone ever since and called it quits together.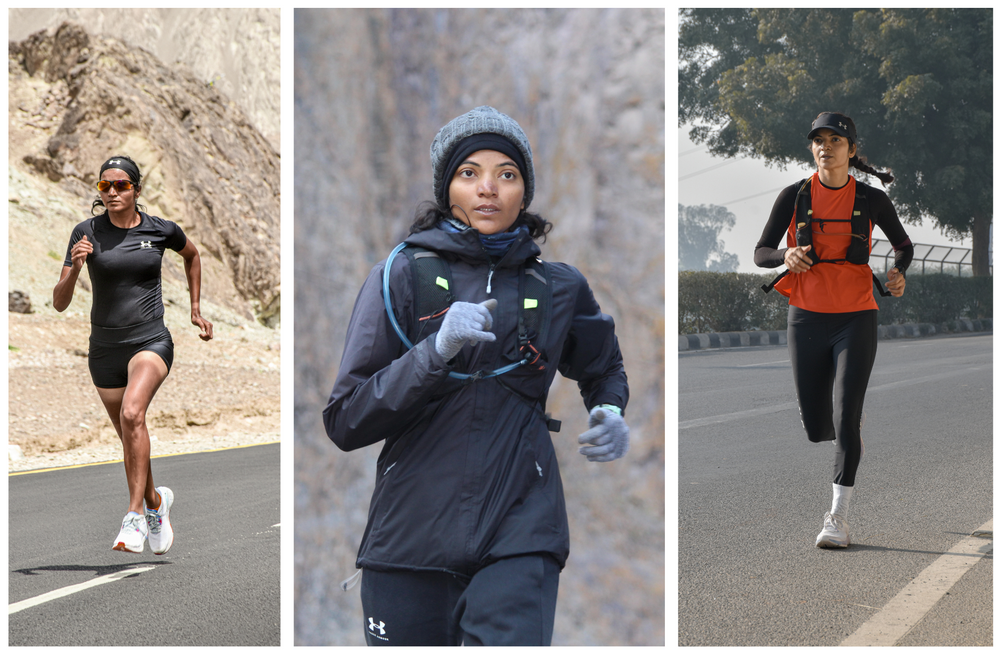 "I run, meet new people, connect with them and move with a positive message; RUN FOR HOPE, where I define HOPE in 4 words - Humanity, Equality, Oneness & Peace."
Future goal: Circumnavigation in 2024, almost 30,000 km on foot.
"Before embarking on this Circumnavigation Run, I have many expeditions coming in 2023. Earlier, I never got myself serious in training but now I am following a strict training program. Because my upcoming expeditions are going to be tougher. I run less in my training but strong focus on strength & core workouts.
I don't follow a particular diet but I always take care of my protein intake."
"Circumnavigation or Run Around the World is my dream expedition."