Nurturing Twin Daughters, Losing Weight and Enjoying the 'Me Time'
Megha Patel, from Bangalore, is a 33-year-old runner and mother of twin daughters. The initial 5 years after delivering her twins were devoted to taking their care without anyone else's support. Megha gained a lot of weight because of her pregnancy. She was 98 kgs and didn't pay much attention to her body and well-being. She kept on gaining weight, and realised she needed to start working on herself when her girls reached the age of five.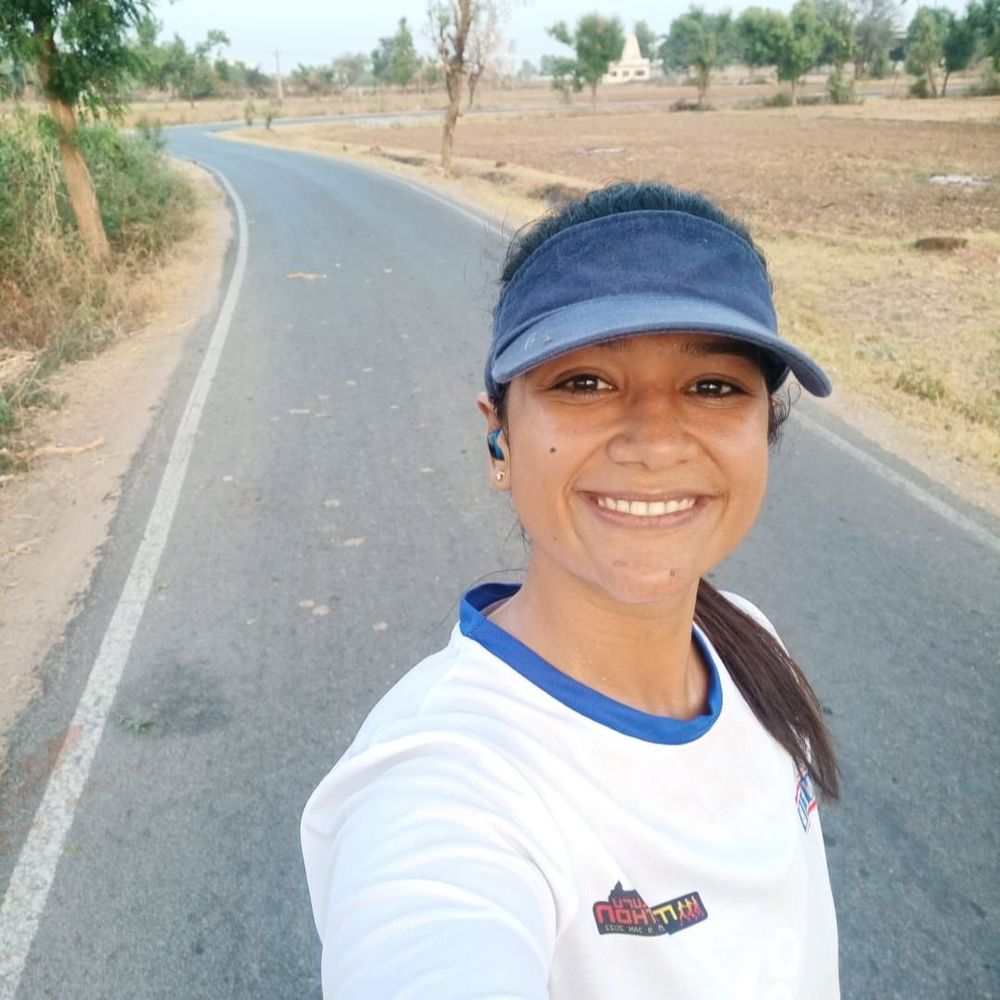 "I used to look in the mirror and say, 'Megha, you can do it!'"
She started her journey by adopting dietary adjustments, beginning with intermittent fasting and various other crash diets. This worked only for six months, but the results she was getting weren't consistent and then she thought of making some changes and moving slowly towards her goal. In November 2018, she decided to take control of her diet herself. For breakfast she preferred having something light like oats, poha or upma cooked in ghee and avoided oil. She made sure her lunch was composed of an adequate amount of salad and vegetables. Protein intake was properly maintained and she lost 5 kg after her first month of dieting. On an average, she was losing 2-3 kgs on a monthly basis and after successfully losing 10 kg in total, her weight loss journey started to move at a steady pace. Everything she was doing was her own initiative, and since her medical reports were normal, she didn't feel the need to visit a doctor.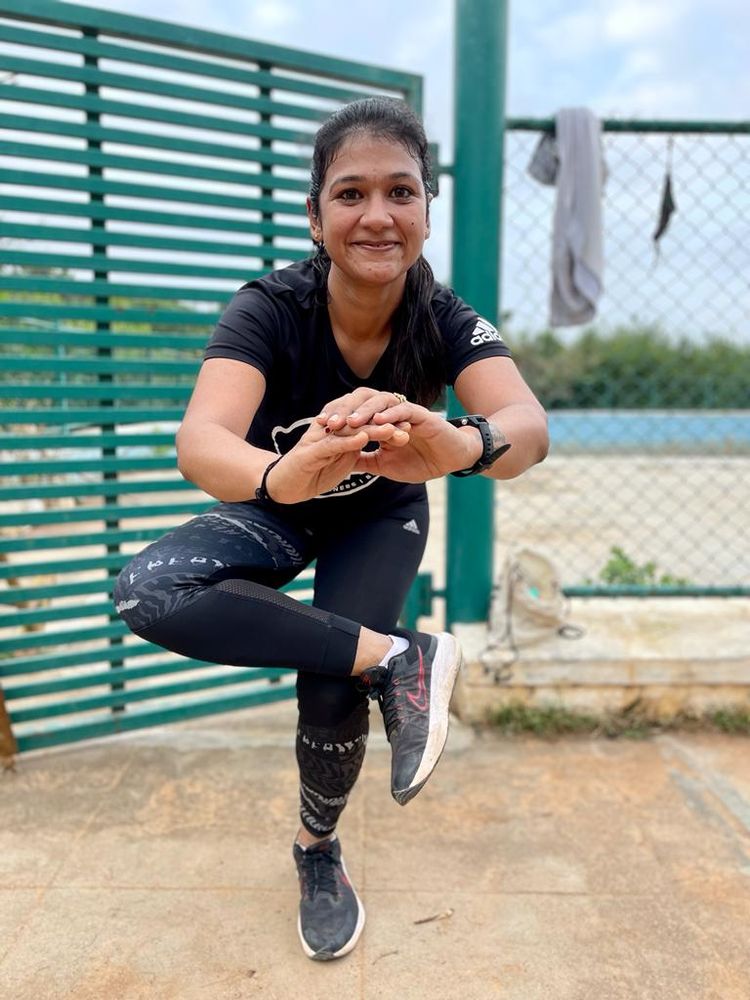 "I didn't want to be dependent on someone for my weight loss. I wanted to do it on my own."
As Megha was overweight, she avoided running and adopted brisk walking, yoga and swimming to boost her weight loss. Sometimes her motivation would dip low and for this, she used to search for some inspiring people she could connect with and take tips from. Gradually, she started to increase her walking distance.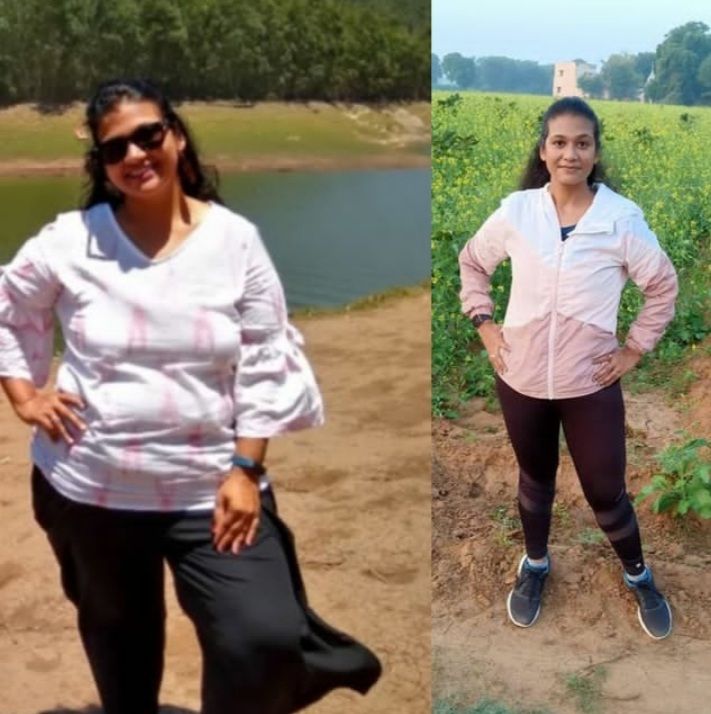 "I avoided running because I was overweight and it could have caused problems in my knees. I used to walk, do yoga and swim."
Megha used to feel sad about not getting the result she wanted despite working so hard. Still she didn't lose hope and believed in herself that she could lose weight even when she was losing a kilogram in a month. After reaching 79kgs, she began running, 3-4 months after the emergence of COVID in 2019. Starting with 1K, she went on to run 3K and then 5K. She participated in many virtual events for 5K and 10K runs. Her friend motivated her to go for a half-marathon and Megha did complete one virtually. She has participated in one offline event - a 10K run. Then she joined some groups in Bangalore. She became a part of Adidas Runners where she met Vikas, her coach, who guides her on running and training. Megha slowly learnt more and more about running. She further plans to complete a full marathon, an ultramarathon and a triathlon too.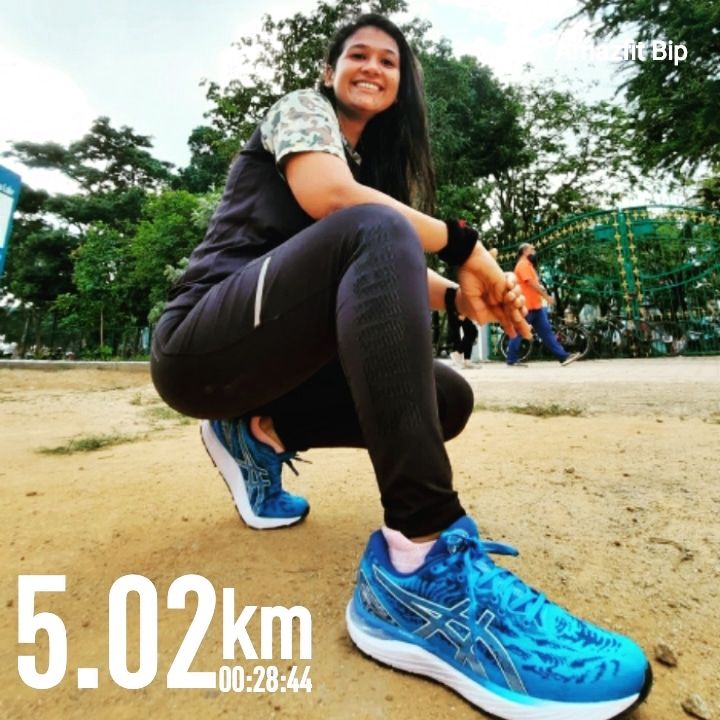 "Now I'm so passionate about running such that I can't go a single day without it."
Talking about how she balances running and family time, Megha says that she has been waking up at 4.30 in the morning for the past 2 years. The time before 8 in the morning is the only time she gets for herself. As a woman runner, she faces many problems. When she went to her mother's village, some women passed comments because she was running and once she was running in Bangalore, a person riding a bike made an inappropriate gesture. Megha generally tries to be cautious but many women runners face issues like these.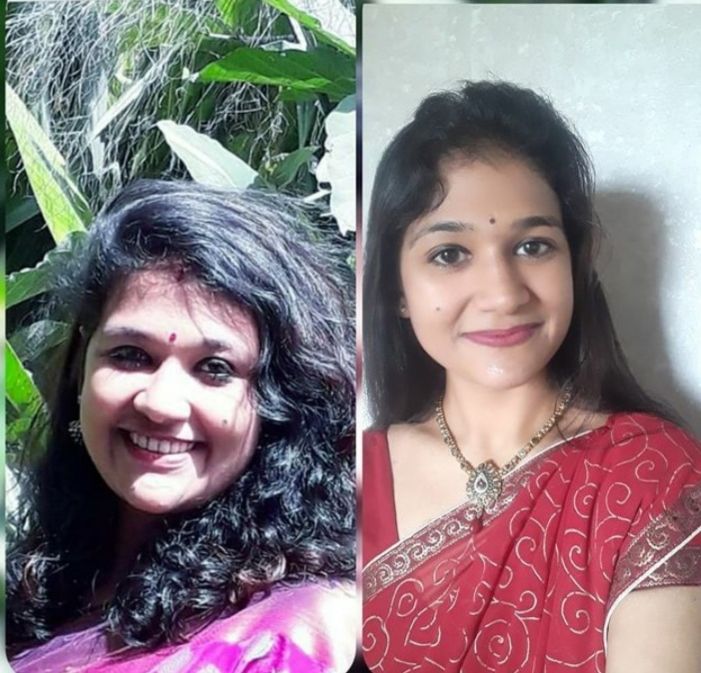 Tips by Megha Patel:
Indian women consider household chores as their priority. They need to prioritize themselves first.

Many women devote their lives only to household work, completely ignoring their health. This leads to injuries and health issues that go unnoticed.

You'll be able to do anything efficiently only if your health is sound.
"Take out at least one hour for yourself everyday and do something that you enjoy. 'Me Time' is very important. "