Losing Inches and Finding Solutions
Shrabantika Roy, 26-year-old Architect, is from the 'City of Joy' Kolkata. She started running recently in 2019. She was a chubby child from the beginning and she weighed 104 kgs as a teenager which society usually does not accept as a norm. Her doctor had told her that she has reached such a phase that even bariatric surgery is not even an option for her. Her body fat was above 40%. She had to go out of the city for further studies and started with gymming there and that helped her shed weight and bring it within the bracket of 80-90 kgs. At the gym, people used to be amazed that a chubby girl like her is so fit and able to lift weights. One of her gym buddies, who is also Reebok Coach Instructor, Sanjana Dutta Gupta, introduced her to running. She invited Shrabantika to run along and she agreed. It was Shrabantika's first run ever and she remembers it to be magical.
"My first run ever, I ran 5 km in 27 mins, unrecorded though. That was my best run till date."
When she came back to her city, that's when her professional career and running journey started in 2019. She participated in a few running events at that time like Airtel Kolkata. For some reason, she got disqualified from the event and that was the turning point when she decided that she has to get serious about running.
"I used to wonder why people are wearing the same-colored t-shirts and running at 5 in the morning."
It was at her first event at XAVRUN held by Xavier's University that she realised why people wear the same-colored t-shirts and run in the morning. In August-September 2021, she again resumed running after a gap due to COVID. Her first official event was of 10K and clocked 1hr 20 mins. This was followed by two 5K events.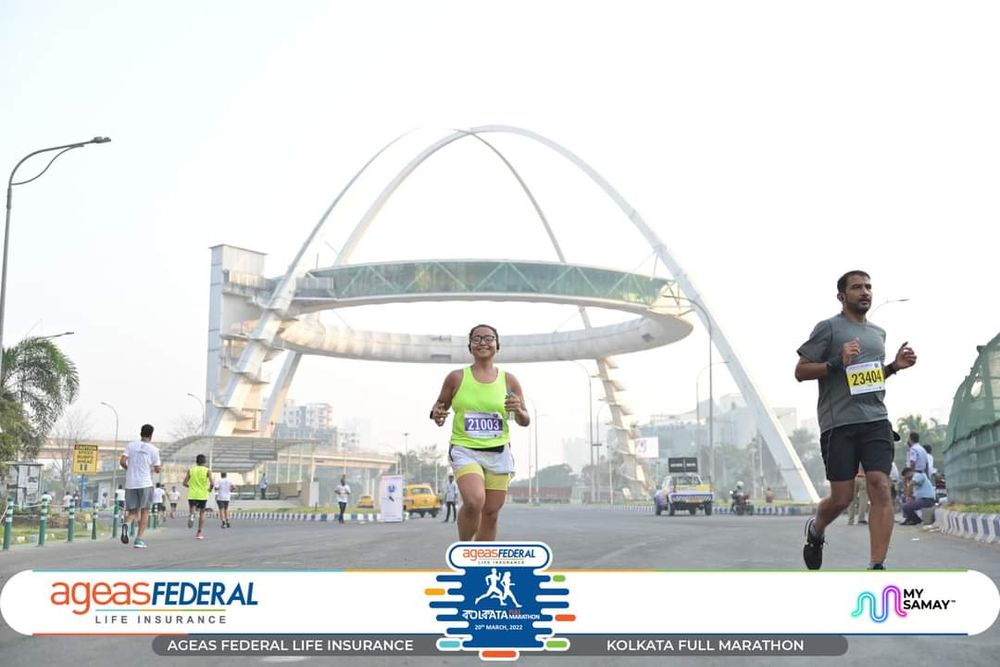 "The madness I have seen for running is increasing day-by-day and I am so glad that people are enjoying this sport."
Shrabantika considers running as a therapy which provides benefits equivalent to that of meditation. She likes to run solo - she is her own competitor and she is her own best judge and enjoys her company. Whenever she is facing any problem or is under pressure due to any reason, she picks up her shoes and goes for a run, and running clears her thought process and gives her a solution which her conscious mind cannot do.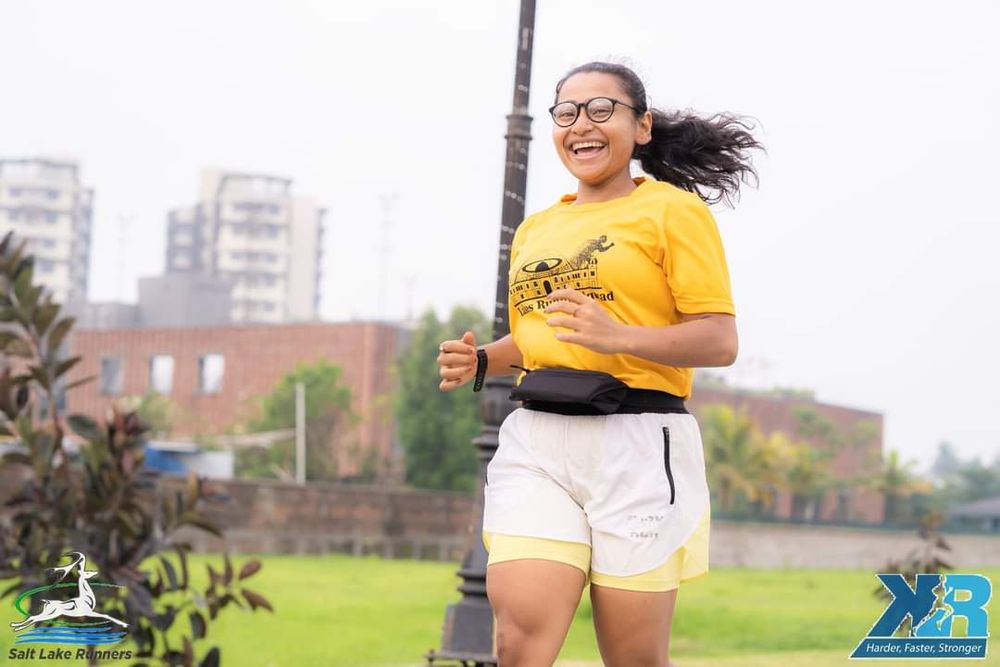 "While running, I feel that my mind, body and soul are connected."
Kolkata being a metropolitan city, there's a lot of crowd and commotion and that's why she tries to finish her daily runs and return home between 7.30-8 am. Despite the rush, she enjoys the vibe of the city. During her running journey till date, she has met a lot of people, and one person she specially mentions is Rupa Das, who has been promoting her city and providing enthusiasm and motivation to the runners. She has helped Shrabantika rediscover Kolkata and accept the city with its own terms and conditions.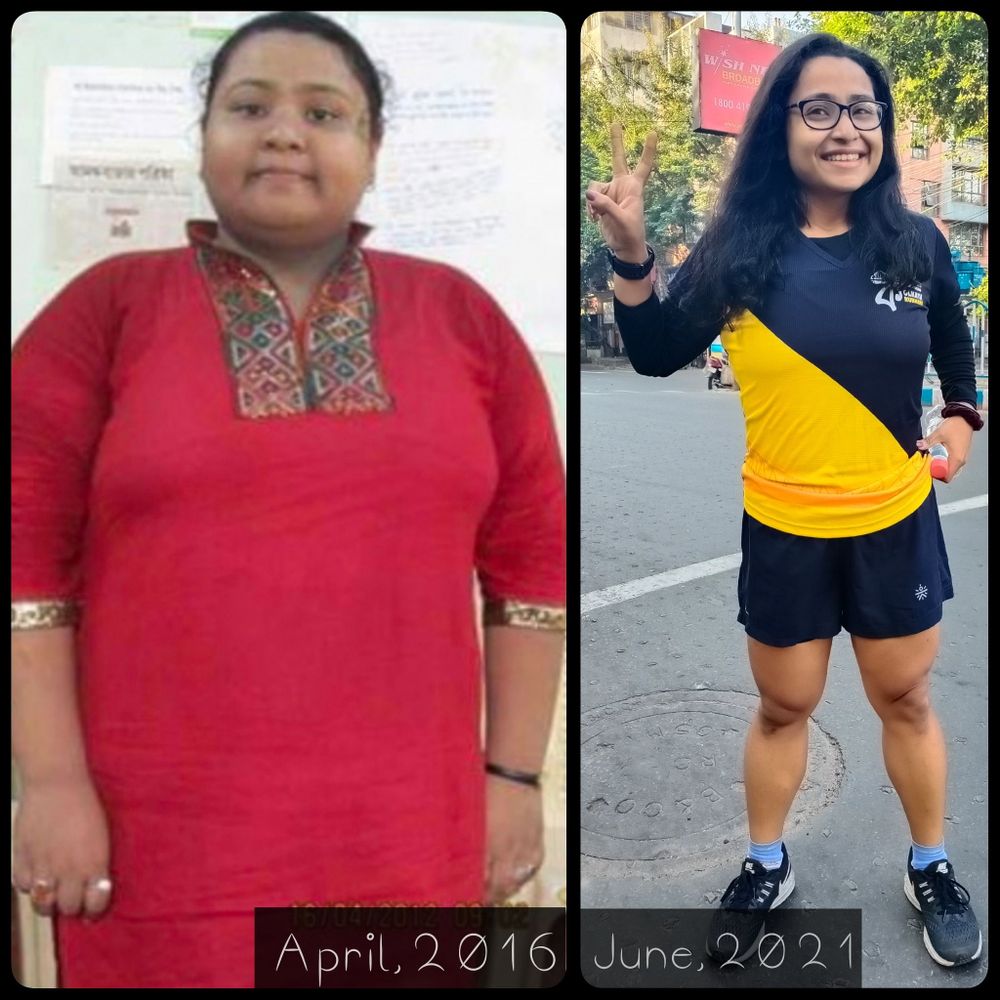 "I give credit to running for helping me reduce 5-7 kgs more and it has helped me tone down a lot and lose inches. From my waist, I went from 38 to 32 inches."
Talking about challenges, she says, being a woman in itself is very challenging. One definitely needs some company early in the morning while running. The weather again is another challenge and maintaining a balance is important. The third is road traffic. One has to wake up early to find empty roads to run peacefully.
"The biggest challenge is you, yourself. Getting up early, having a healthy diet, getting proper nutrition."
Running makes you a disciplined person; it helps eradicate bad habits. Being a foodie and from Kolkata, her motivation is a buffet being served after one finishes the race. At one time, she remembers, she finished the run and went straight to have the food and while she was about to take the first bite, her name was being announced at the podium, which she wasn't expecting at all and was a surprise for her.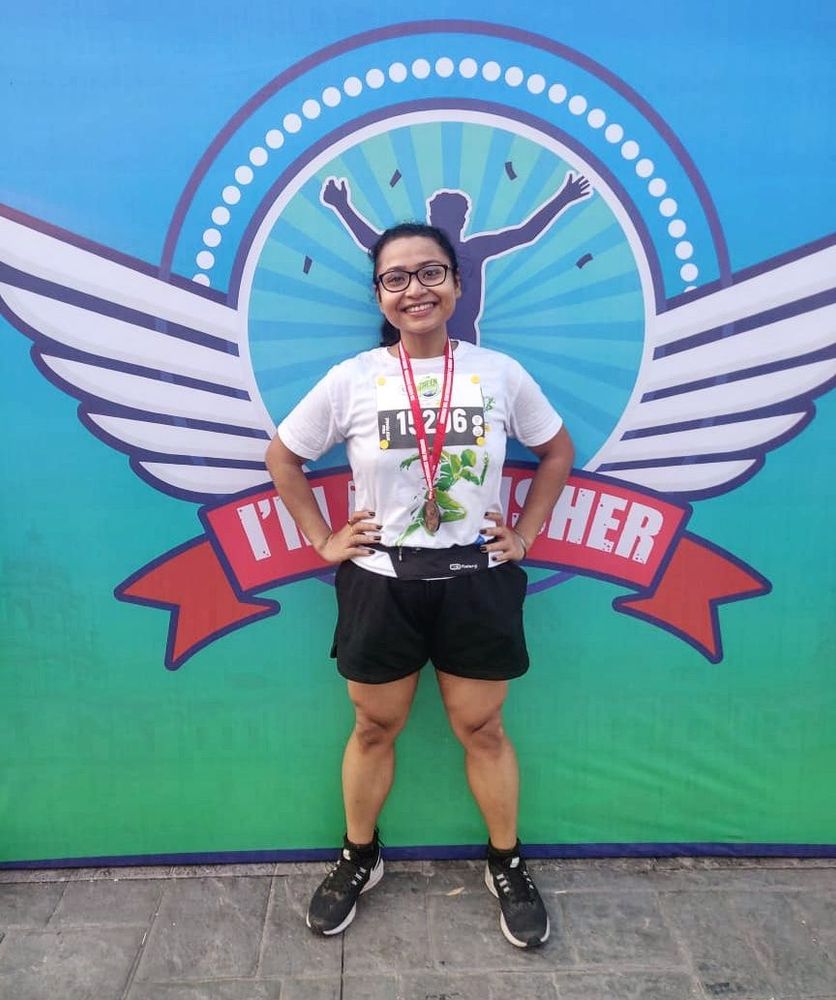 "So, I read this somewhere online - 'Instead of setting alarms for waking up; start setting alarms for going to sleep'."
Events Shrabantika Participated in -
BRC Structura Marathon, Kolkata, 2020 – Podium 1st position, female runner in her age category

Tata steel, 2019 – 10K: 1hr, 6mins

Aegeas Federal Run As One, Kolkata, 2021 – 5K: 29 mins

Aegeas Federal, Full marathon, Kolkata, 2022 – 5th position; Half Marathon: 2hrs 31mins

Fastest 10K – 59.5 mins