JBG WESTIN 33 - The Staircase Run Event
In association with The Westin Hotel and under patronage of Jai Balaji Group, Sportiz successfully organised the second edition of JBG WESTIN 33, powered by Decathlon (Newtown), which was held on 14th August 2022. JBG Westin 33 required participants to run up the internal staircase of The Westin Hotel (Kolkata). It was a timed race and a supreme test of one's fitness. The race was from the ground to the helipad on the 33rd floor of The Westin tower with a view of the sunset behind the Kolkata landscape. The race was capped at approximately 200 participants who scaled 499ft, climbing 33 floors adding up to a total of 1056 stairs.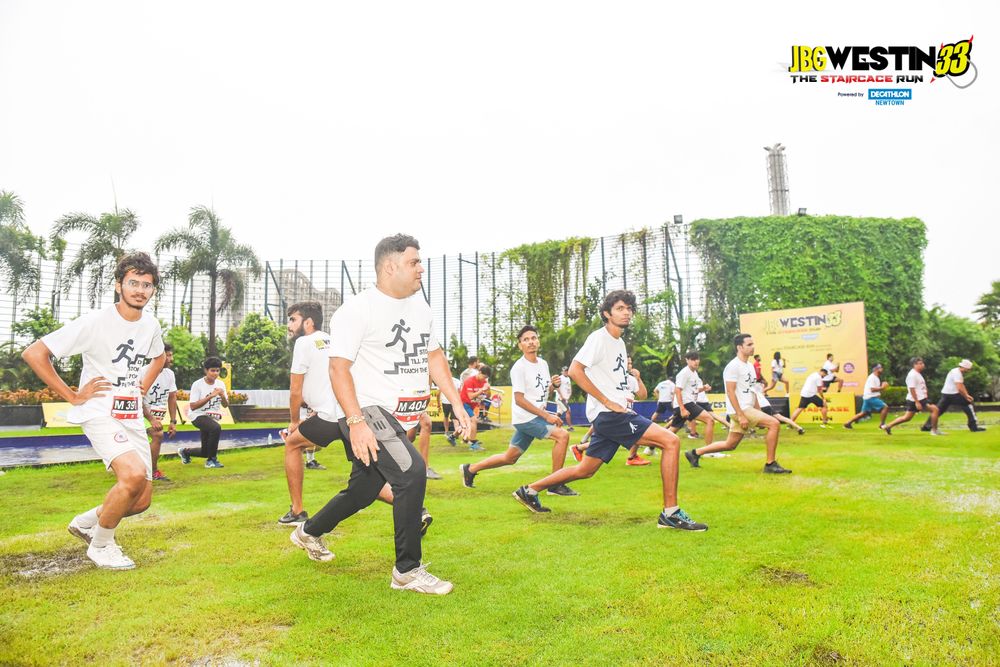 No event has a hyped up start without a full power-packed warm up session! Before the flag off, all participants collectively sang the national anthem in the spirit of the 75th independence day of INDIA following which there was an energy booster session of basic exercises and Zumba where all participants braced themselves for the start.
The event was all prepped for but the weather conditions took an odd turn. The Director of Sportiz Nishant Maheshwari shares the challenges the organising team faced and how they dealt with the last-minute changes. The deluged weather conditions caused the formation of puddles and water logging in the holding area. Due to incessant pouring that day, the running route had to be changed and Sportiz team was able to do so well within time without even a minute's delay. But even after all the odds due to the downpour on race day, the enthusiasm of all the attendees was untouched. Several of the participants stepped out in the rain to enjoy the monsoons and to motivate all the others to get on the open ground for Zumba and warm up - "True sportsmanship isn't winning but it's walking towards winning all together," did seem like the mood of the day! Defying the situations, 175 participants took on the challenge as they proceeded towards the flag off respectively, on schedule.
To give the additional motivation, this edition of the JBG WESTIN 33 included a diverse prize pool awarding podiums for not only the open categories but also for the special categories - the Youngest and the Oldest finisher and age categories of 13-18, 19-30, 31 to 45 and 46 and above for both male and female. The fastest finisher of the female category finished the entire climb in 00:07:27 mins where as the fastest male finished in a lightning speed of 4 mins. The fitness community of Kolkata showcased a whole new level of sportsmanship as all of them finished the race despite of the weather odds.
The race was a grand success which was celebrated with an after party hosted in Westin itself.