Breaking Barriers of Age | Finding Beauty in Marathoning
An ex-Mathematics teacher/Digital Electronics Lecturer, Taru Mateti found unforeseen beauty in running at 50. 58-year-old, ultramarathoner, comrades runner, endurance athlete, fitness enthusiast, ex-Sr IT Professional, Fauji wife, and mother, Taru Mateti, started running quite by chance about nine years ago in her 50th year and found it very liberating and motivating with many podium finishes too as a bonus.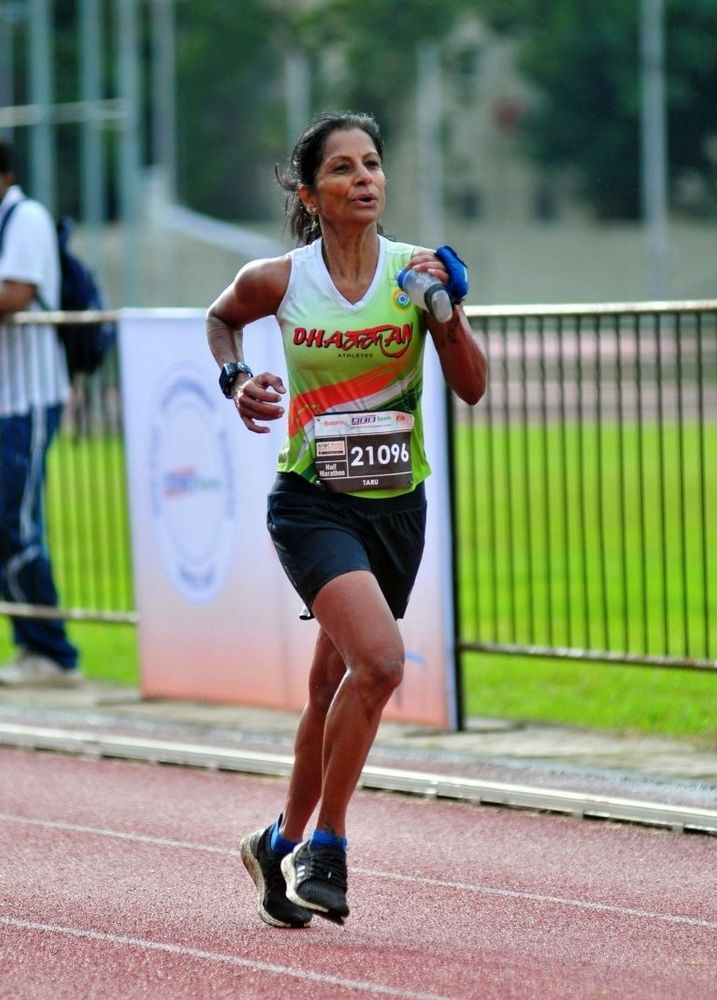 Taru was a Delivery Head at Cybage Software until mid-2017 where she had a team of about 250 IT professionals before she took voluntary retirement to pursue her new-found passion. She was a lecturer in Engineering colleges and Mathematics/Physics teacher in various schools all over India. With no prior exposure to running or any other fitness activity in school or college, she picked up badminton after she got married and then diversified to other fitness activities too before running became her interest. Eventually, she decided to take it to the next level after achieving each milestone and is now an ultramarathoner.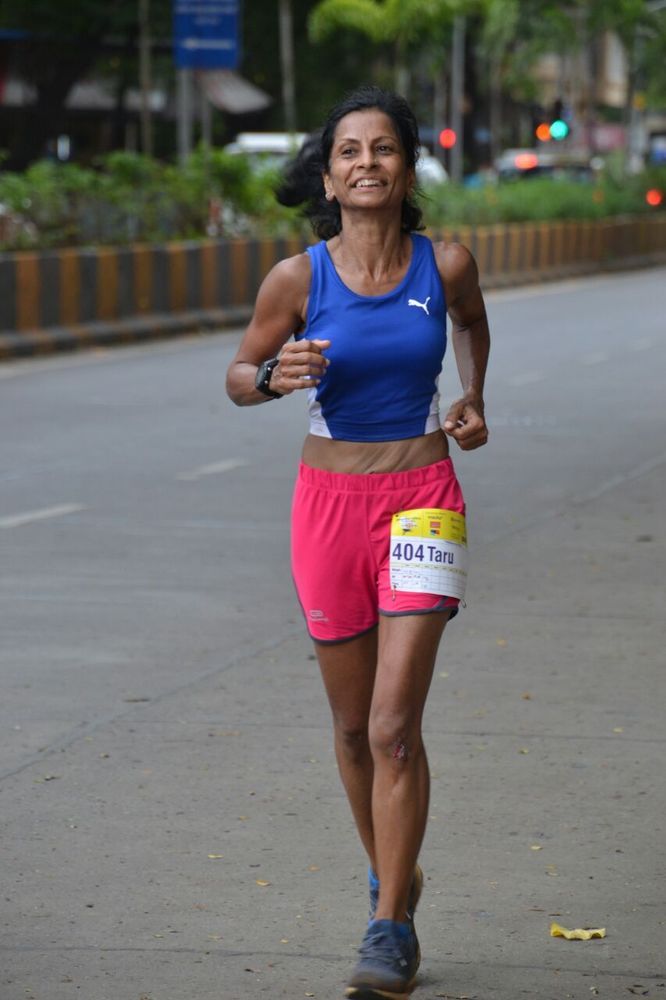 "I believe in continuous learning and that age is no bar to becoming a better version of oneself."
Taru realised her potential when she decided to run a 10K in Pune International Marathon in 2013 but ran 10K the very first day she went out to run, though she took about 65-67 minutes that day. It was her first time running long distance outdoors; she describes it as very enlightening. With the breeze hitting her face and scenic views to look at, she felt liberated. Ms Taru ran with a running group in Pune from May 2013 and had an ad hoc coach, Mr Michael Francis. He would mainly guide athletes as to when they should increase their running distances over weekends and how much to run during the week. In August the same year, she ran her first event, a half marathon at the Airtel Hyderabad Marathon, which has a lot of inclines and was a difficult first-event for her.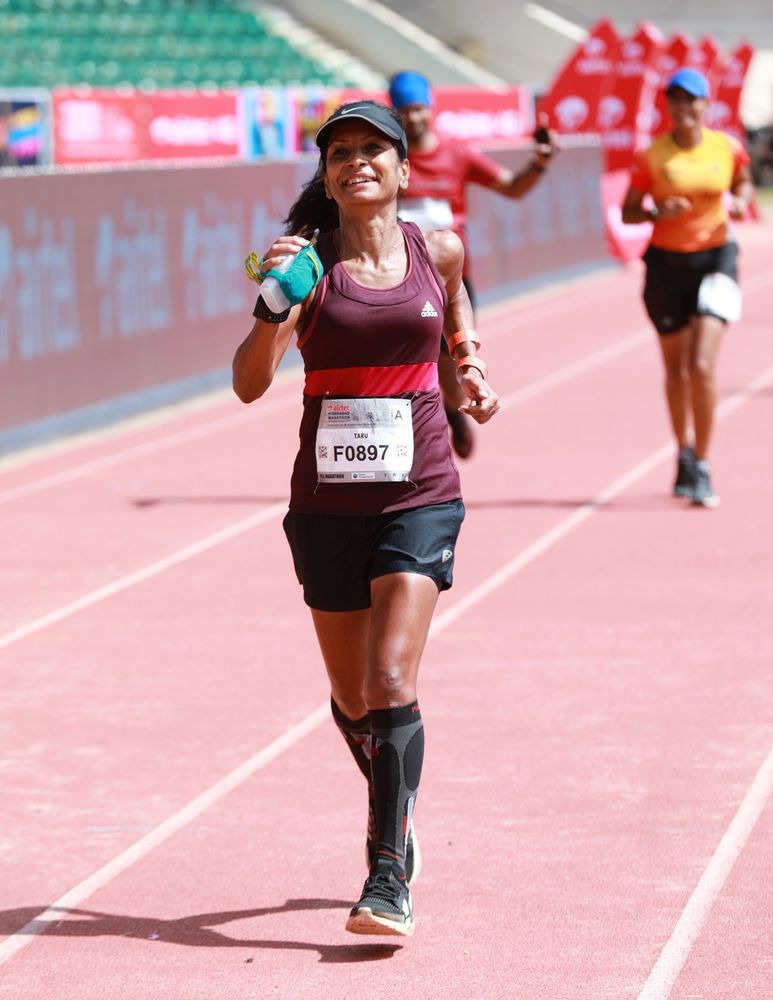 Taru continued to train for the Jan 2014 Mumbai Full Marathon, and she successfully completed her first full marathon in 4 hours and 35 minutes. Besides shorter runs, she ran many half and full marathons after this all over India and won a lot of podiums. She was highly motivated by her consistent achievements and continued participating. Gradually, Taru wanted to increase her running speed and in her training sessions, she realised the importance of yoga and strength training. She realised they are necessary to train muscles in order to get them ready for running as she started running late in life.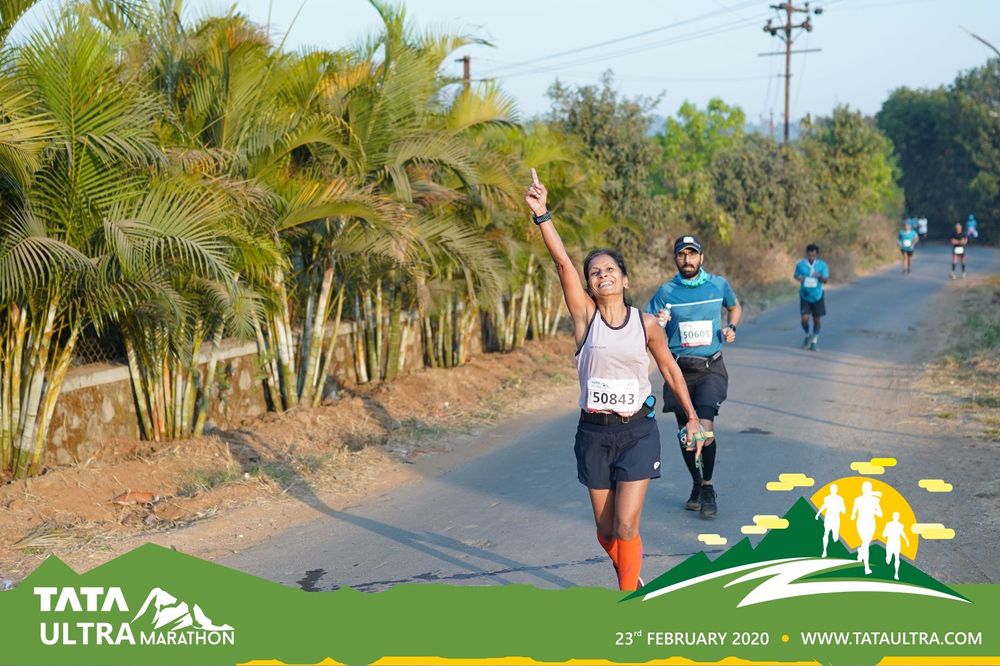 She believes that when someone starts running at an older age, it is necessary to be cautious about not pushing the body too much too soon. One needs to be wise enough to listen to the body and know when to push it and pull it back while training for something as the body might be made for distance and not speed. Taru realised herself that trying to achieve too much speed was causing her injuries time and again and also that gaining distance was much more fun for her. She then scaled up on endurance and started running ultramarathons, venturing with the shortest ultra distance of 50K while still at her full-time job. She believes she has matured as an athlete as now she understands the significance of varying workouts, compromising on running sometimes and doing other sorts of exercises like strength training, yoga, and pilates. She now makes and follows her own training plans after learning a lot from a stint of about 3 years with her Comrades coach.
"Each run gives different types of elated feeling and learning."
After running 100K at Pune Ultramarathon, Taru decided to run in the Comrades Marathon which is called The Ultimate Human Race and has strict cut-offs on a route full of hills. She was trained for it under Mr. Atul Godbole and with 12-15 runners. She learned new training patterns with him and also participated in Malnad UltraMarathon which she also successfully finished in the sub-11 Bronze category. Since then, she has overcome other barriers and run a couple of 12-hour stadium runs that include a basic challenge of running in loops of 400m, and also completed 100K at The Hell Race Border Ultra in Jaisalmer.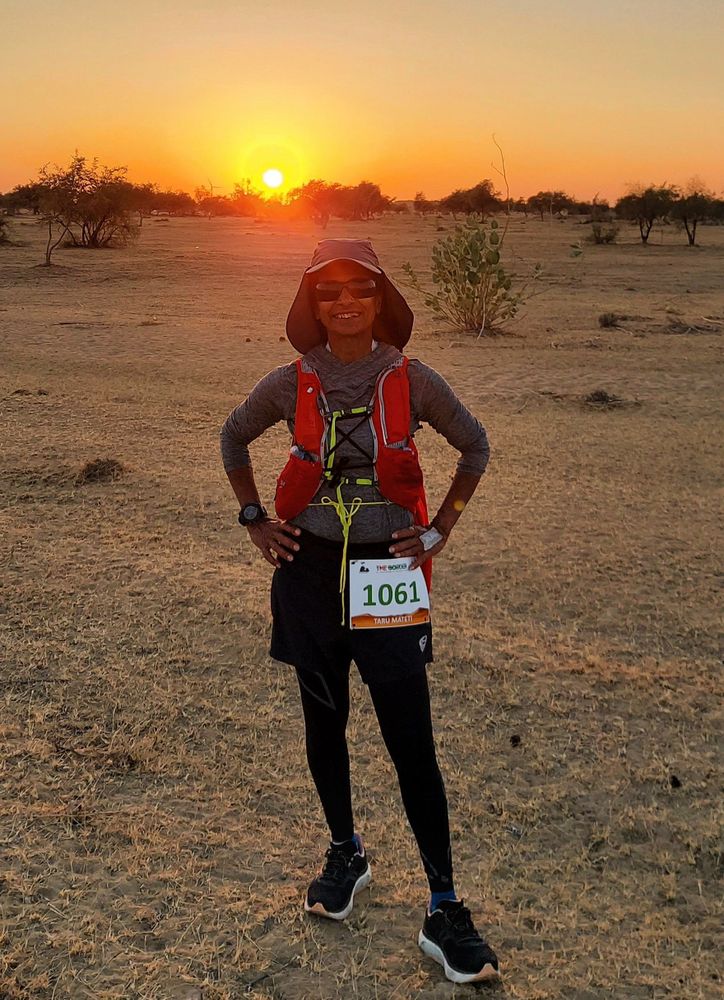 "Age is never a barrier. One should just know the limitations of their body and focus on all aspects involving running."
Taru further explains the importance of warm ups, cross training, strength training and stretching, too, as they are good for the kinetic chain and help avoid any sort of injury. Nutrition and rest are of utmost importance too, though often neglected. She even recommends getting general tests done from a doctor from time to time. Taking supplements such as calcium, VitaminB12, D3 or other supplements as advised by the doctor is a very judicious way of managing your body.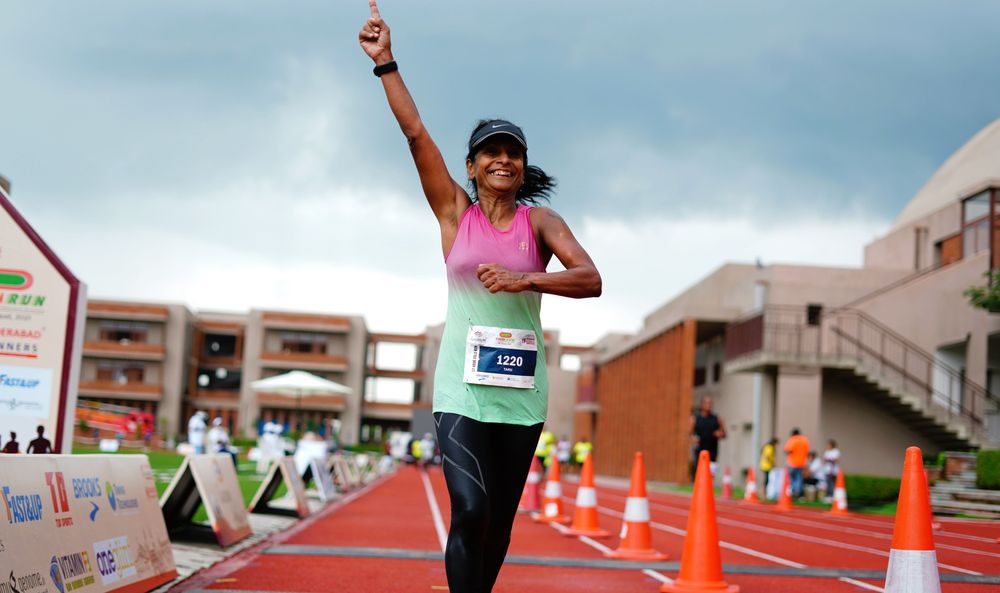 "Running really has been very helpful in controlling my mood swings during menopause and made tiding over that time easier."
Taru has also consulted a nutritionist on two occasions to procure proper diet plans. She mentions that taking a professional's opinion has really made her understand the difference between healthy, clean eating and unhealthy eating especially for women. She makes sure she inculcates salads, vegetables, nuts and seeds, sprouts and more protein in her daily diet now.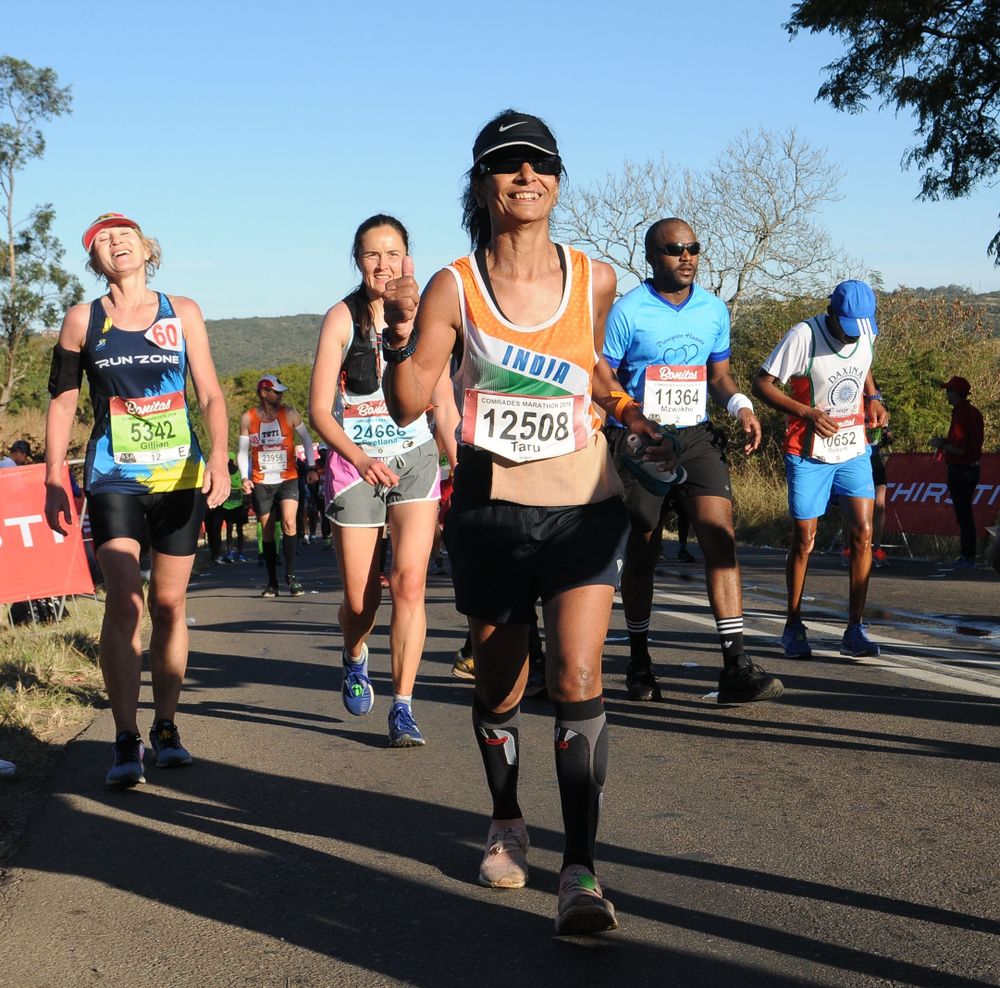 "Family should take on certain responsibilities when a woman in a family wishes to become an athlete."
Taru explains that becoming a marathoner does call for a few sacrifices and changes in an athlete's lifestyle. She claims that she has herself reduced the frequency of partying and given up on refined sugar and processed foods. She also discussed the adjustments that an athlete's friends and family needs to make too in order to help him/her improve.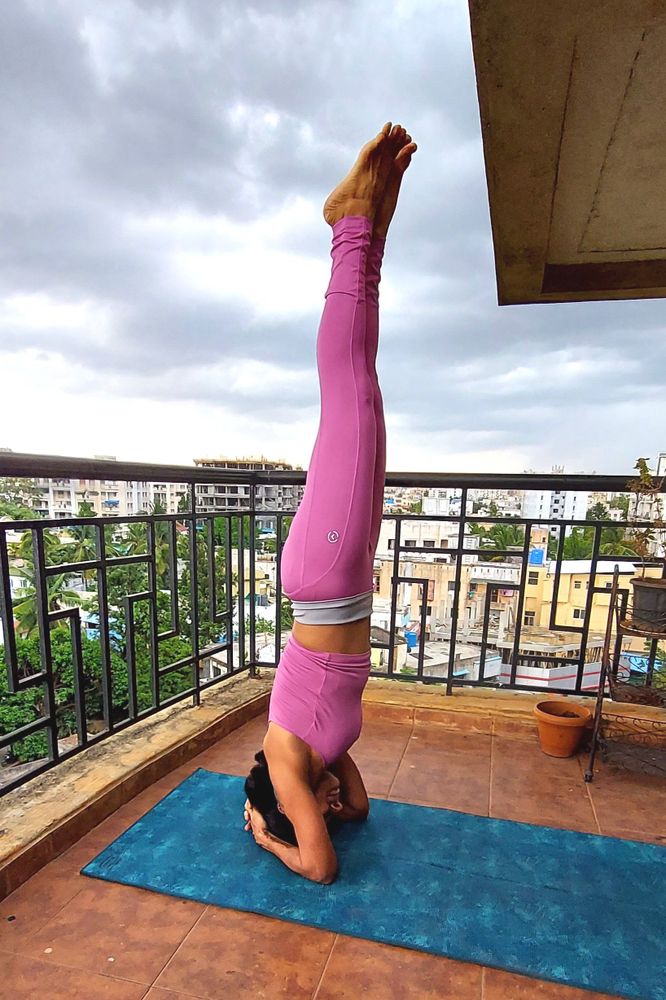 "As a runner, you have to modify your life a lot."
She is sensitive towards the safety of women in running and feels that although a little change is evident, there has to be a lot more awareness and change in the society in general towards safety and respect of women. Although many event organisers give due attention, she urges all event organisers to have special focus on facilities for women like availability of washrooms and changing tents on the race courses.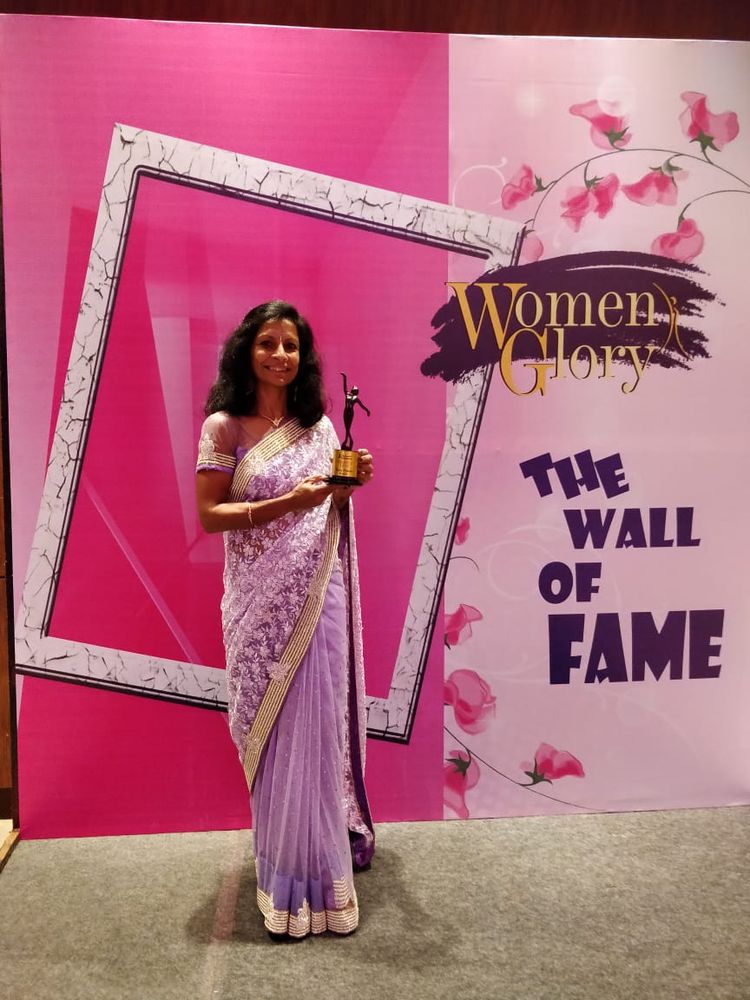 Although difficult to choose a favourite run, Taru also shares her experience with the recent 100k The Hell Race Border Ultra. She added that the temperature variation in the beginning of the race and the end are quite a lot, about 30 degrees centigrade to 5 degrees centigrade. The support is every 10 km in the run. An athlete has to carry through the run a hydration pack with appropriate nutrition, torch, jackets, cap, gloves, etc. Despite all the difficulties, she calls it a beautifully satisfying experience as she only remembers the moonlit night and the black path with golden sand all around, along with the camaraderie of her fellow runners.
Bhaago India applauds all the dedication Taru has for her fitness and her sport. We appreciate every runner who adds to our running community!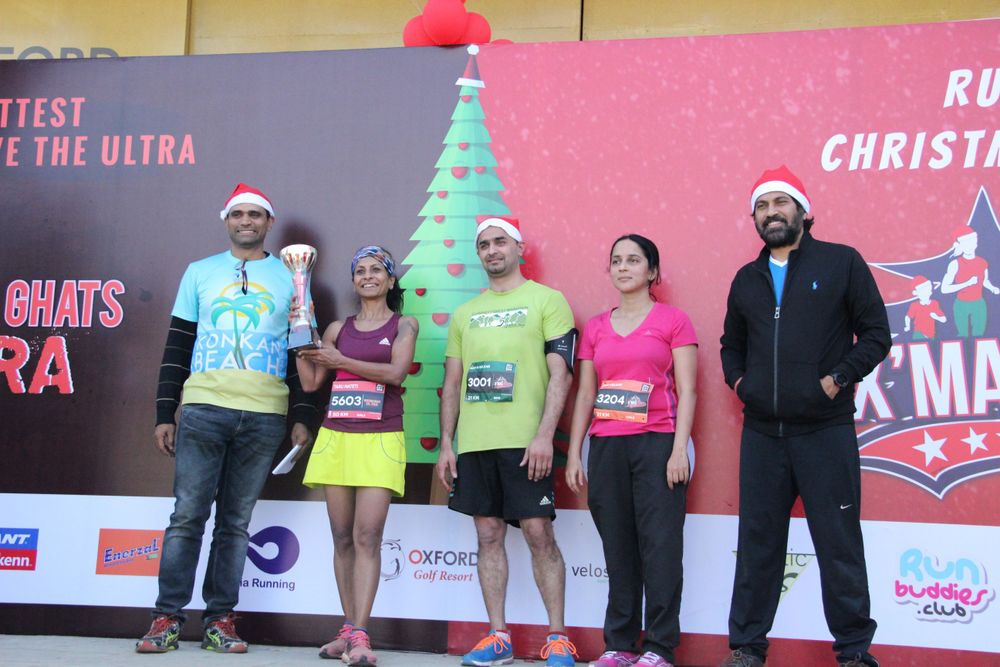 Achievements -
Ran two 100K Ultramarathons, two 12-hour stadium runs: one 90K extended to complete another 100K and another 95K, back-to-back Comrades Marathon 90.2K and 87.4K , one 80K Malnad Ultra, six 50K Ultramarathons and one 12-hour Mumbai Ultra. Also ran eleven full marathons, two 25K runs, and a lost count of half marathons and 10Ks.

Only woman runner in Pune Ultramarathon in 2015 in the 75K/100K/100mile categories in the third edition. Finished fifth amongst all MEN in 100K.

Fastest endurance woman runner from Pune at Comrades and the only one from here to complete the back-to-back Comrades Ultramarathon in the sub-11 hour Bronze medal category.

More than 65 podium finishes in runs ranging from 10K to 50K and 12-hour runs in Pune, Mumbai, Lonavala, Kolkata, Delhi, Goa, Satara, Jaipur, Bengaluru, Kolhapur, Bhopal, Malnad, Panchgani, Mahabaleshwar. One Duathlon, with a podium, and one international half marathon at Melbourne.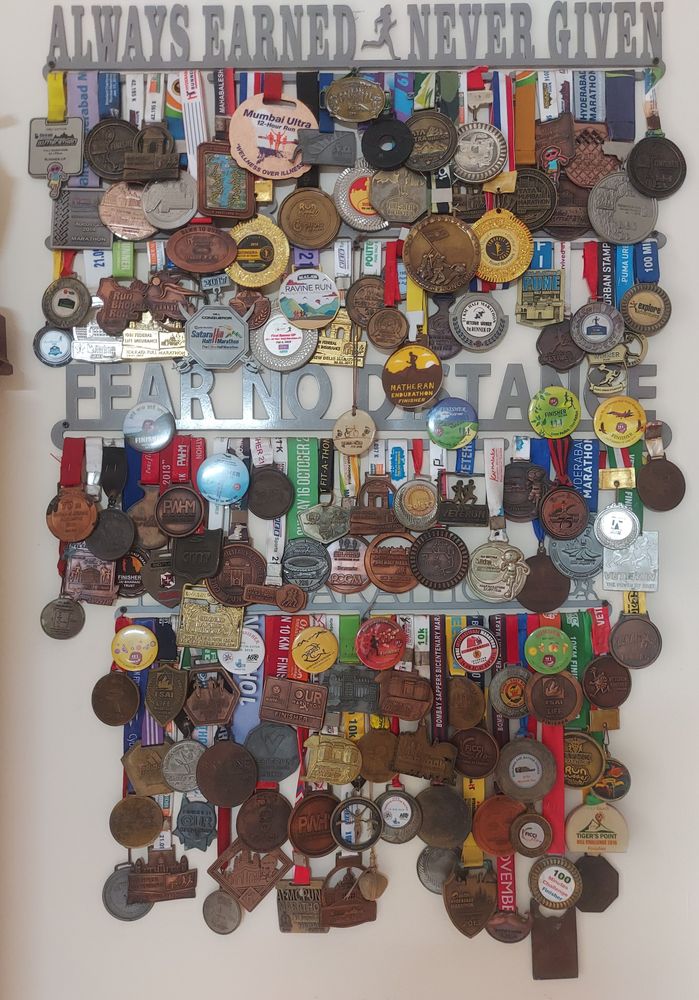 Featured in Women's Glory coffee table book, Pune edition, as one of 50 women achievers across various domains.

Fitness regime includes running, cycling, strength training, yoga, pilates, and occasional badminton, zumba, aerobics.

Conducts fitness-related sessions such as Fitness and the Working Woman, Fitness and the Working Professional, Getting Started with Running for Corporates and strength training

Conducted fitness sessions for 3 months for girls at The Hope for Children Foundation as a volunteer.

Edited by - Nendita Jaswal