An Asthmatic Barefoot Runner Scaling Ladakh
SHANTHI KRISHNAN, a Chartered Accountant and fitness trainer by profession, a runner by passion, and a mother of two. She grew up in Pradhikaran, Pune, and is currently based in Banglore and started her running journey in Singapore where her husband got a job. The weather in Singapore didn't suit her and soon became the reason why she developed chronic asthma.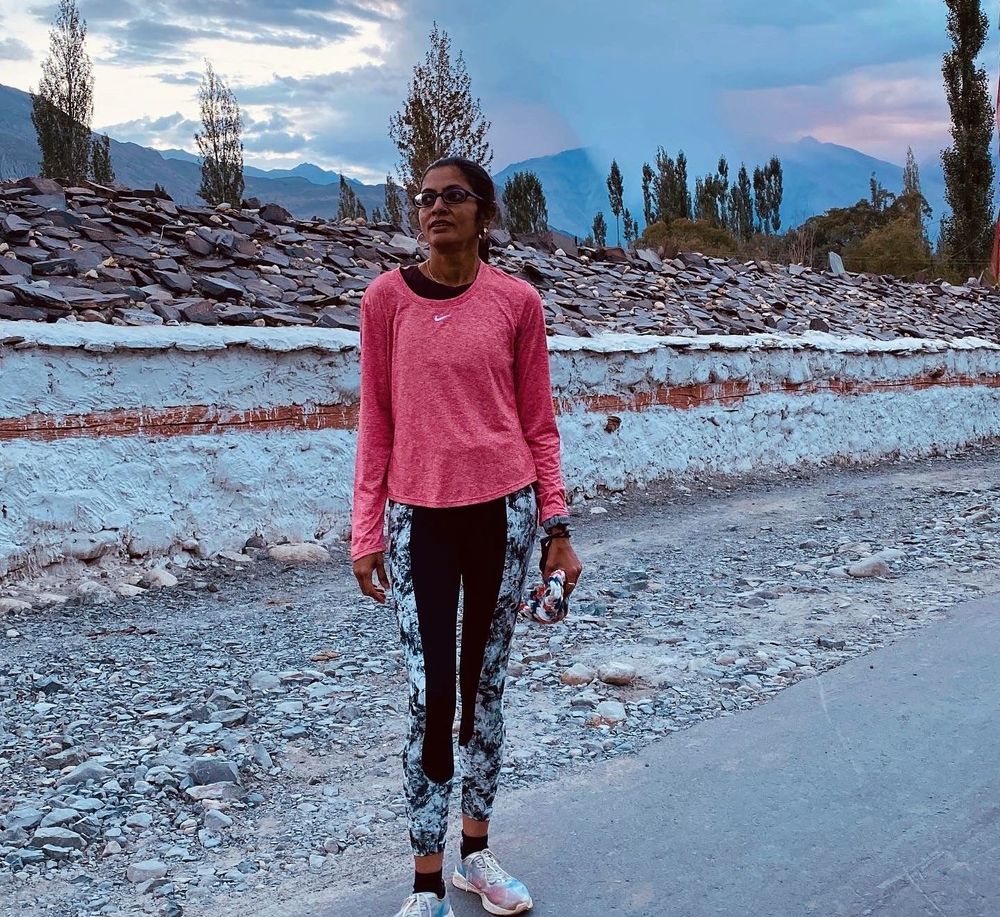 "I realized that that's not the life I would like to live for long."
At 32 years, she struggled to walk just a few steps without an inhaler. On consultation, her doctor suggested she worked on improving her lung capacity by taking up some physical activity. Shanthi started swimming and soon walking, jogging, and running became her groove. From 5K and 10K to her first half marathon for which, she trained for 2 years! She clocked at 3h 1min. She acclaims Singapore as a conducive place with good roads where many do some physical activity around the clock irrespective of its humidity.
In 2013, Shanthi relocated to Pune where she spotted a bunch of runners, Dhakkan Athletes now known as Beyond Runners. They exchanged numbers and are connected to date. Her daughter is also a runner and while she was training for her cross country, her mother coached her to become a trainer for children back in Singapore. She then started training a bunch of kids around her locality that eventually grew to a batch of 200-300. She is a certified yoga practitioner and is currently doing a nutrition course.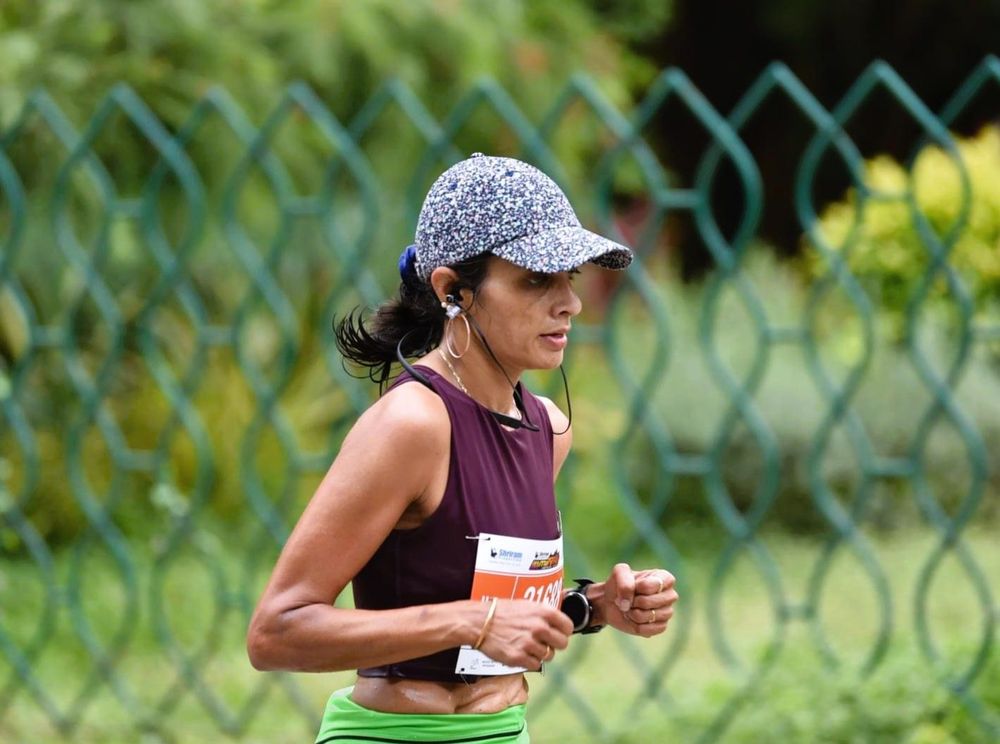 "Running gives me my space, my me time! When I'm happy I run when I'm angry I run when I'm excited I run. It neutralizes the emotions."
By 2017, Shanthi quit her corporate job to become a full-time fitness trainer. She marks 2019 as the year of achieving her personal best timing for a half marathon i.e. 1hr 48min in her hometown where she reminisces her childhood memories.
Before the pandemic, she targeted to do a sub-4 full marathon in Bombay but her legs gave up in the last 4 km, and finished her run in 4hr 1min. She missed the bull's eye by a min! Nevertheless, in March 2022, she re-attempted the sub 4 full, New Delhi Marathon and this time clocked in 3hr 50min.
"Since I'm asthmatic, Ladakh was never on my card. Humse na hopayega yeh!"
In September 2022, one of her running pals was planning on doing the Ladakh Marathon and suggested she attempts it despite her health condition. On doing in-depth research, Shanthi registered herself in April and by May she began with her standard training plan (16 weeks). In June, she even ran an undulating hills marathon in Pune for practice. On reaching the destination, she was mesmerized by the beauty of the landscape; the never-ending mountains, snow-clad peaks, and the sky.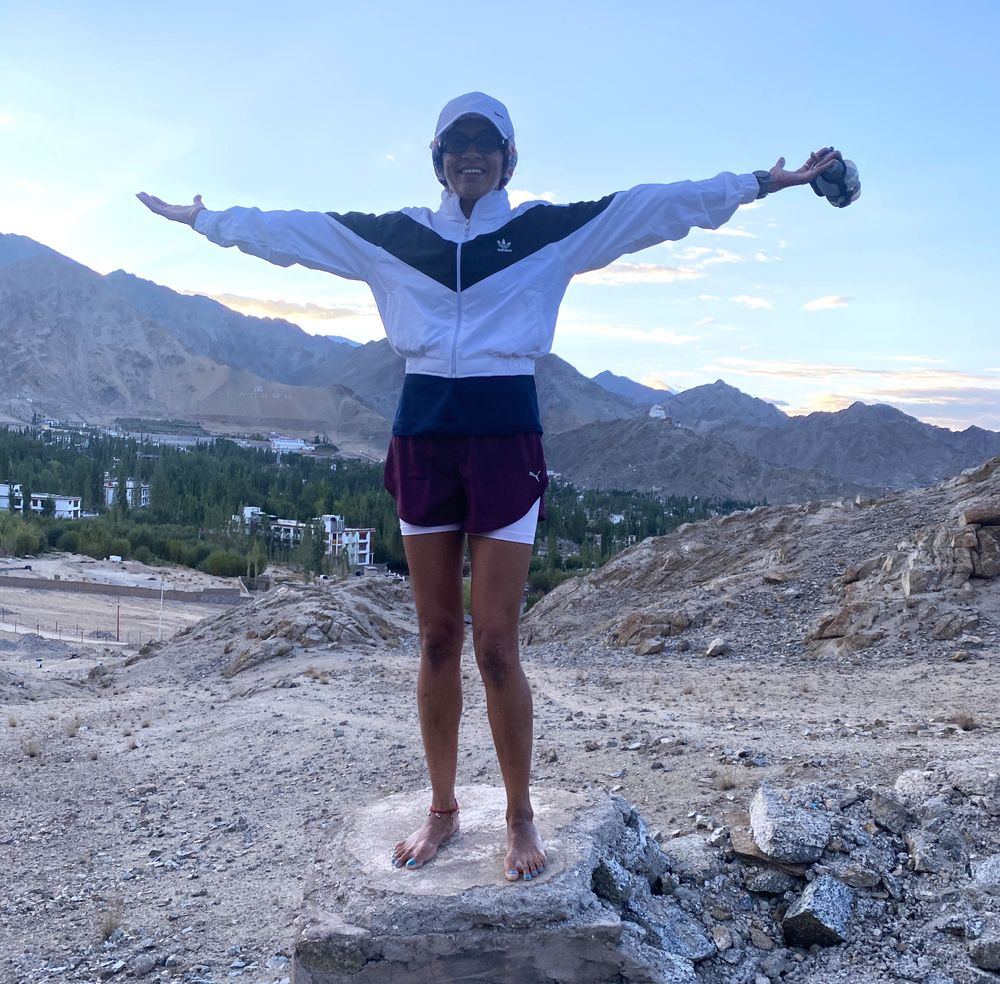 She began preparing for the big day by:
Acclimatizing - Started with slow walks, jogs, and eventually runs
Practiced hill repeats for the last 4K everyone warned her to be 'difficult'.
Wore all outfits during her trial runs to understand what is she comfortable in the weather.
Shanthi started the run by 6.06 AM
First 10K - she ran in light showers.
Next 10K - the weather became relatively very cold.
Following 10K - the sun made its way to the top.
Last 10K - she struggled as the sun got more robust heating up the tar roads and blistering her bare feet.
Ending 2K - walked/ jogged.
"I had to take the call; whether to push myself and stay 5th or comfortably finish the race."
Shanthi finished and came 7th in the women's category. Shanthi claims to have 'accidentally' become a barefoot runner while she was on a long run and was caught up in rain. Her shoes and socks had gotten all wet and soggy resulting in blisters. A chai wala suggested she could remove the shoes and finish what she started.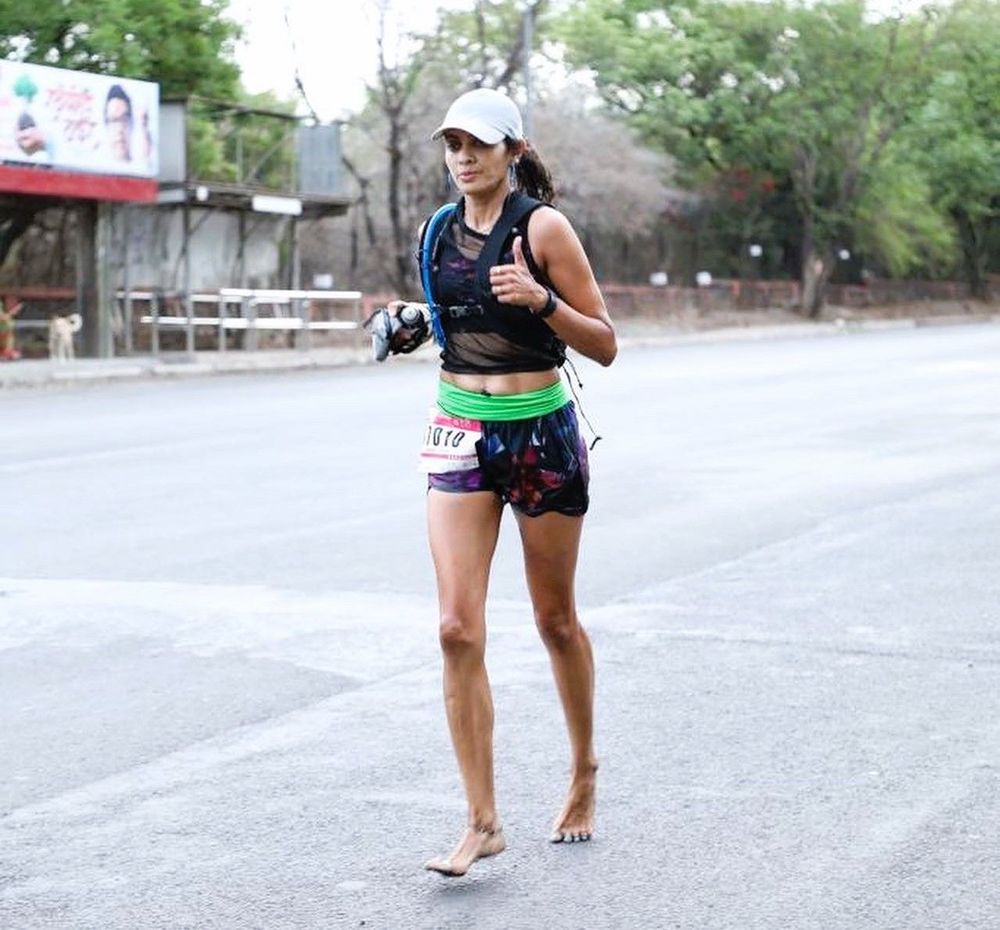 "When I ran without the shoes, it was like a eureka moment for me!"
She states that running barefoot in India comes at a price evidently how the roads aren't even favorable to drive safely. She has run with shards in her legs which took her 6 months of running time since the sole takes a very long time to heal. Over a period of time, she claims that the callus of her feet has turned hard and has increased her resistance to hit the streets in any condition.
It's been over a decade now, and Shanthi is glad to see more and more people catching up on running as a sport. Unfortunately, she has encountered many unpleasant incidents and is vocal about them on her socials. While running, her major concerns are:
2-wheeler delivery people
Increasing road accidents
Poor women's safety
Runners running with traffic which makes it more difficult.
Next on her card:
Mumbai Marathon in January
Beat her own best
"My lungs have definitely become much stronger and I'm a much better version of myself compared to where I started and all credit goes to running."
Edited by - Mokshi Savla