A woman who chose running to fight barriers! - Smita Kulkarni
Smita Kulkarni who is 51 years old was born and brought up in Bombay but is now settled in Pune. She has had a keen interest in fitness since her twenties, though she started running Marathons at the age of 42.
She started her journey of running Marathons with TMM (then SCMM), which was her first Half Marathon that she ran in 2 hrs 4 mins without any technical training, believing in herself and putting her whole heart into that marathon. She ran her first full marathon for 5 hr 24 mins at the age of 44 with an IT band injury which aggravated further after the race. She had to take a break from running and that is when she decided to go to a proper running Coach and take structured training. Recently she ran the New Delhi Full Marathon in 3 hr 55 mins at the age of 51!
She has done two World Majors, the Chicago and Berlin Marathon, and also has run the Boston Virtual Marathon. She recently completed her 10th marathon, which marks a significant achievement for her. Furthermore, Smita is now planning to run another International Marathon this year, along with maybe a triathlon for which she has recently started training for.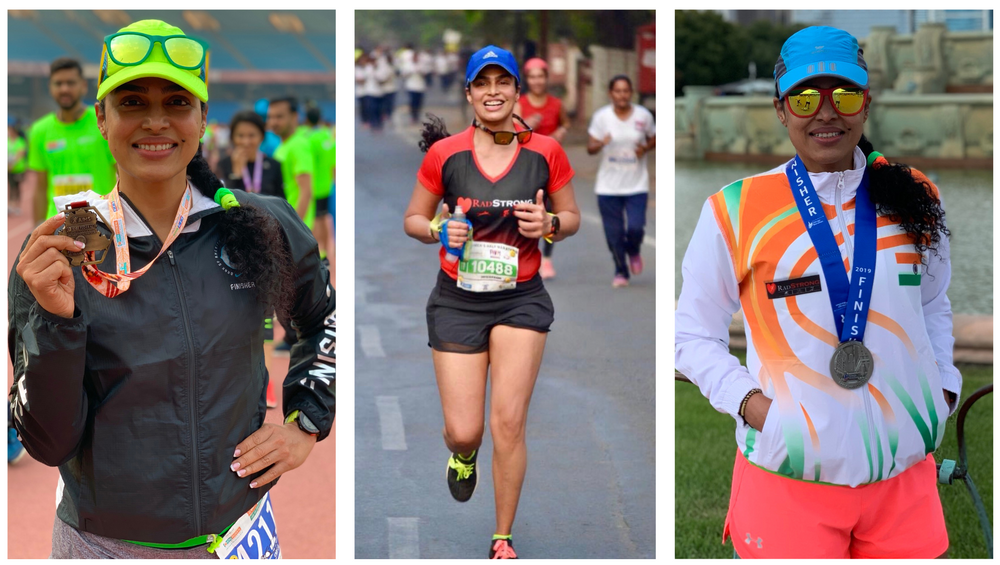 Of all the races Smita has finished, her favorite was the Satara Hill Half Marathon, where she got a podium in her age category to add to the many other podiums she has received in her running journey. It is an extremely well-organized Marathon of India with great support and cheering from the locals and, challenging enough to bring out the best in a passionate runner.
Menopause is a common thing for all women from the age of 45 to 55. Yet the stigma attached to it is as severe as Menarche. Women in India still tend to be unaware as it's considered a taboo topic to talk about.
However, Smita talked about her early menopause(age 37) and all the problems she faced because of it. And how running helped her overcome most of these challenges.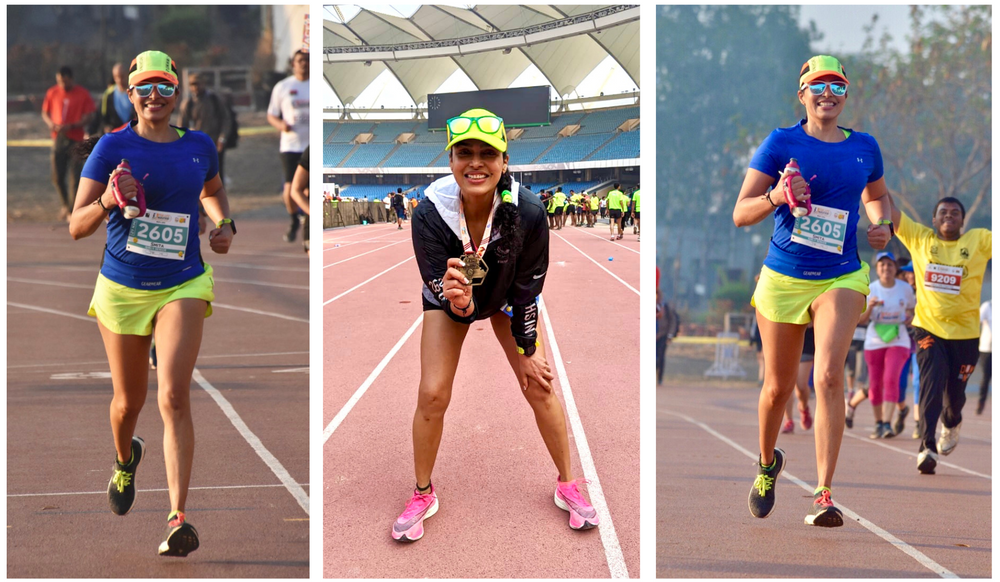 Running made me love myself and helped me to form a disciplined yet happy lifestyle.
Smita's menopause started a lot prematurely at age 37. It made things far more challenging for her with her 7-year-old child and with the severe symptoms of premature menopause, it was getting hard to manage her daily routine along with Ulcerative Colitis, an Autoimmune disease that started when she conceived.
Smita's passion for fitness activities proved to be a powerful aid in handling mood swings, sudden weight transformation, and other common menopause symptoms.
Women believe that age defines their way of living. However, that is not true. Smita found a supportive friend circle along with her journey into running from her running Coaching Academy, which helped her to fight all the menopause challenges and come out of it with the support of her family and friends.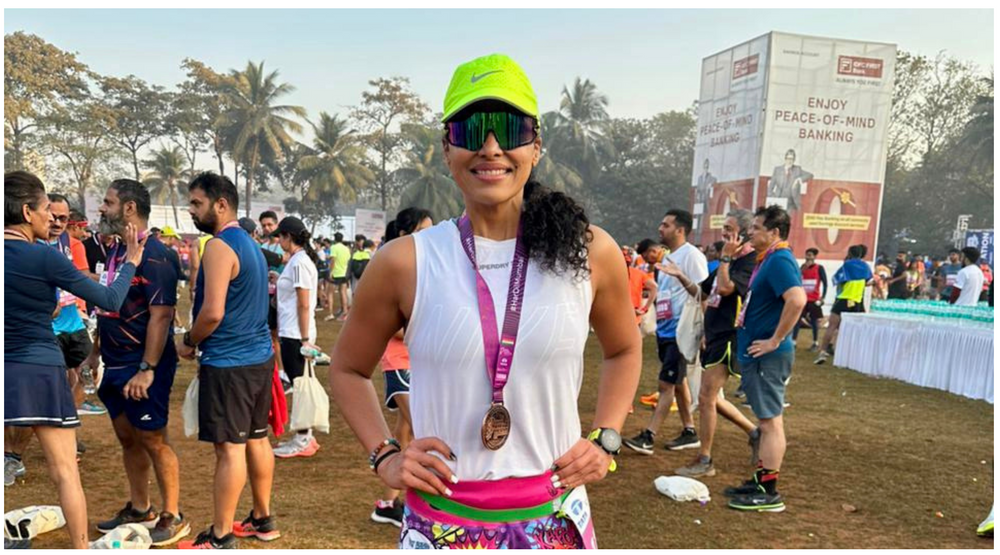 For any of the problems I face, I just go for a run, and that's my solution. It gives me peace and joy.
Smita has run Marathons in India and abroad and shared that the races conducted abroad are very well organized, especially the support provided to runners is commendable. The crowd-cheering and positive environment make running a wholesome experience.
Smita furthermore shared that the Tata Mumbai Marathon in India is organized in a very supportive method for runners, keeping in mind details like hydration, route, and a great crowd cheering, making it a must-go for all the runners of India.
Regarding safety for women runners, Smita puts light on something that hardly crosses people's minds these days i.e., the unavailability of public toilets for women and additional street lights on roadsides.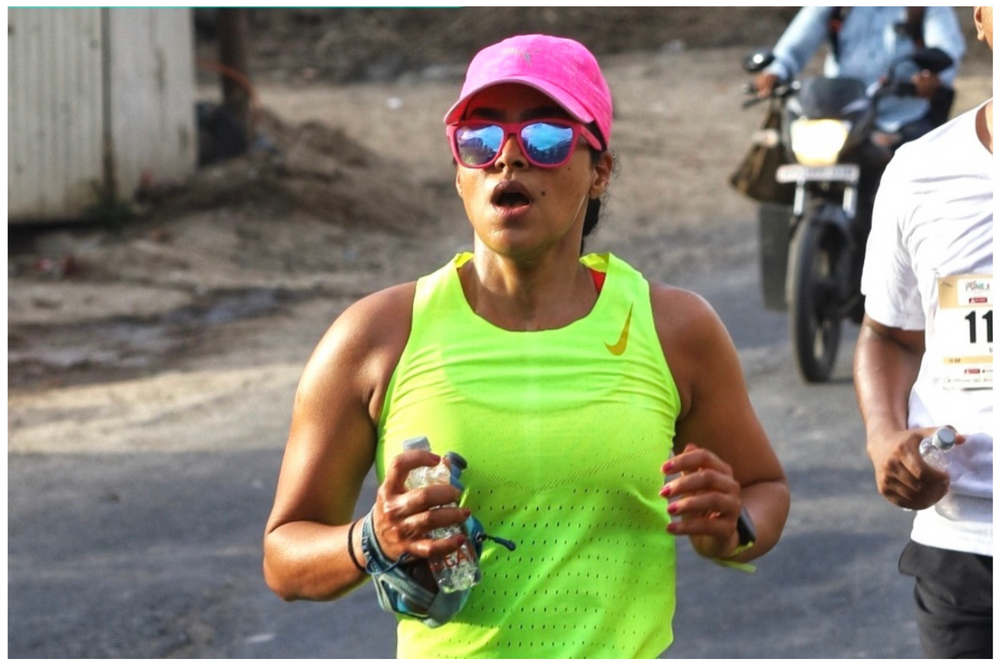 She suggests that women who want to run should try running with a group or a friend at least and carry pepper spray for safety precautions as most of the training runs start in the early morning in darkness. As advice for an amateur runner, she says that understanding your body is very crucial and one should gradually build up distance and pace. Smita also suggests that amateur runners should look for a Coach who can help them replicate their efforts into worthy experiences.
Edited by Faiz Alam