A Nutritionist woman of strong mettle and a tough background! - Shivani Verma
Shivani Verma is a nutritionist, a wife of an army officer, and the mother of two boys.
She inherited her interest in sports and all sports-related activities from her father, who was in the army, dealing with challenges with a disciplined perspective and a strong attitude toward getting into action.
Shivani initiated running to get fitter post-pregnancy and gradually developed into a forefront runner and a love for running herself. She furthermore upgraded herself to running long-distance and found it an everlasting experience that built her into an inspiration for many!
Running is a meditation for me.
She ran a half marathon from Ajmer Sharief to Pushkar for fun and got a podium with no prior experience, training, or types of equipment, surprising everyone with her unique identity. She went for various marathons like Airtel Half Marathon, Au Jaipur, Vedanta, Tata Steel Kolkata, and lots more winning podiums. Tata Mumbai Marathon being her debut was a dream come true. She has been an Ambassador for AU Jaipur Marathon for three consecutive years.
Furthermore, gradually her passion for running turned into her way of meditating giving her a fresh mind to observe and carry forward her daily routine. With an approach to never giving up and surpassing her finest potential, Shivani became an inspiration!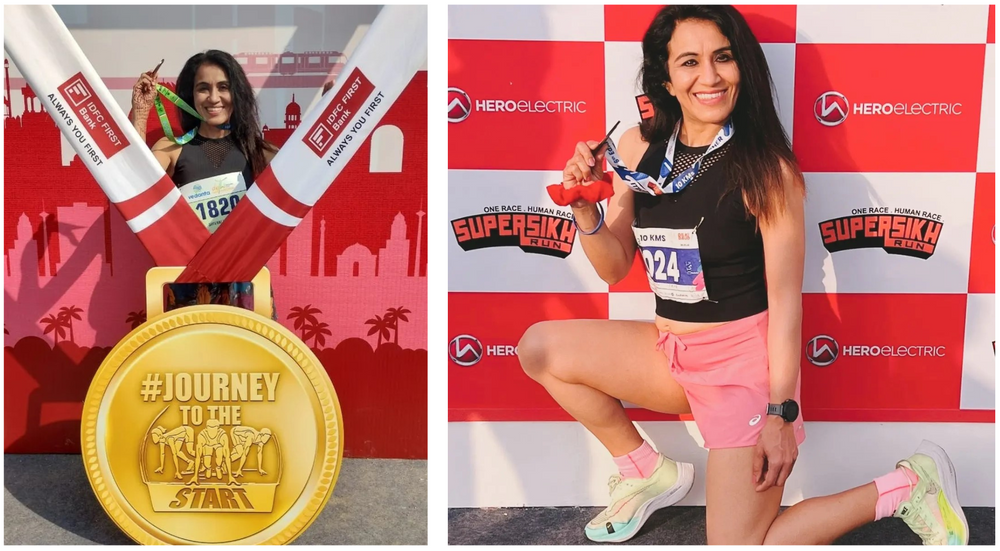 As women, their day is never theirs, belonging majorly to their families. From waking up their kids for school to preparing tiffin for them early in the morning to sending their kids to school, from giving their husbands that perfectly made tea in the morning to cleaning the home till he comes back. There is hardly anything a woman does for herself.
All these daily hustles that women do for their families give them happiness, though that doesn't neglect the fact that they also need their "ME time" to do things they love and develop themselves as a person as well.
Running fills that gap. I run for myself.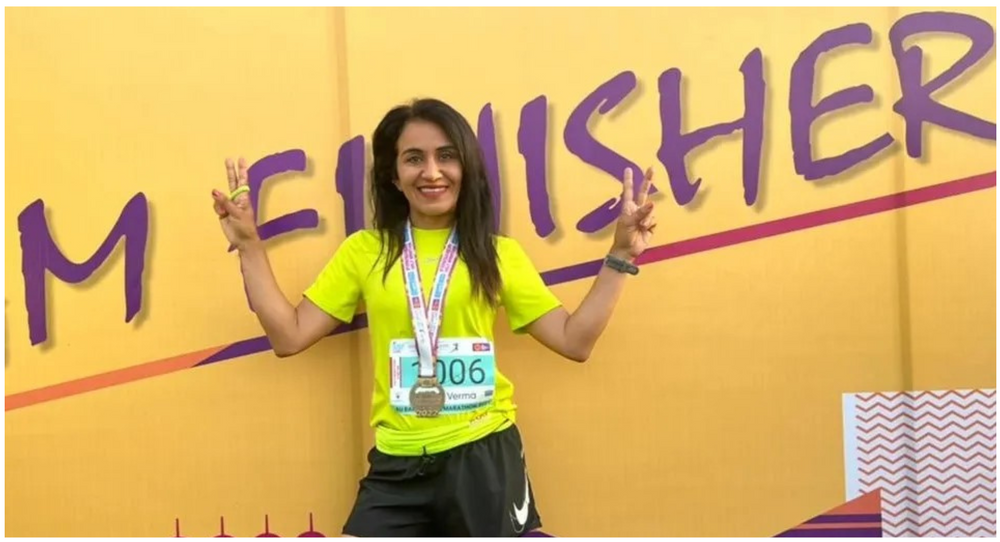 Shivani recalls that running solely is for herself. She often closes her eyes when running to feel the nature around her closely linking with her ideas. Doing the same makes her happy and gives her more power to continue her daily routine.
As a woman, she has prepared herself enough to be ready for the challenges she might face, and her army background has built her tough.
Shivani gives useful advice to all the women out there thinking to begin their running voyage. She recalls that women should take care of their diet and exercise regularly and believe in the ideology to prioritize their own self-improvement to secure a better future!
Edited by Faiz Alam