5% off
'The day a woman can walk freely at midnight on the roads, that day we can say that India achieved independence.' - Mahatma Gandhi.
Pink Night Run is being organised to salute the spirit of womanhood and to spread the message of women's health, safety and education. It is India's largest Night Run platform dedicated to supporting women. The run is open to both Male and Female participants. The Event will commence at various cities across India and will provide support to various charity groups who work for women safety, health and education.
​The Run is open to both Male and Female participants
The largest Night Run platform envisions the streets of India to be a safe place for women at even ungodly hours. The crimes against women included kidnapping, rape, rape with murder, acid attacks, suicide abetment, and human trafficking. India registered 31,677 cases of rape in 2021 - an average of 86 daily - while nearly 49 claims of crime against women were lodged every single hour, according to the latest government report on crimes in India.
This event calls you to run with her, for her. It encourages you to support the pink force of your city by just running a distance of 3k (nontimed walk), 5k (non-timed run), 10k (timed run), and corporate run. Cellula targets metro cities like Hyderabad, Bangalore, Mumbai, Pune, Ahmedabad, and New Delhi.
Dr. Manish Harsh, CEO of Cellula states "Women's safety and health remain primary concerns in India. We are running this campaign to support local NGOs and spread awareness about this very critical issue. In every metro, we will be supporting 7-10 NGOs who are active in the segment."
Details of the Event
Event date - 12th Nov 2022 evening
Start time - 7 pm onwards.
Registration fees -

For 10 km timed race - Rs 899
For 5 km fun race - Rs 599
For 3 km fun race - Rs 499

Registration Link - Register here
Last Registration Date - 10th Nov 2022.
Location:
KTPO Whitefield, Bengaluru, Karnataka, India
Route Map: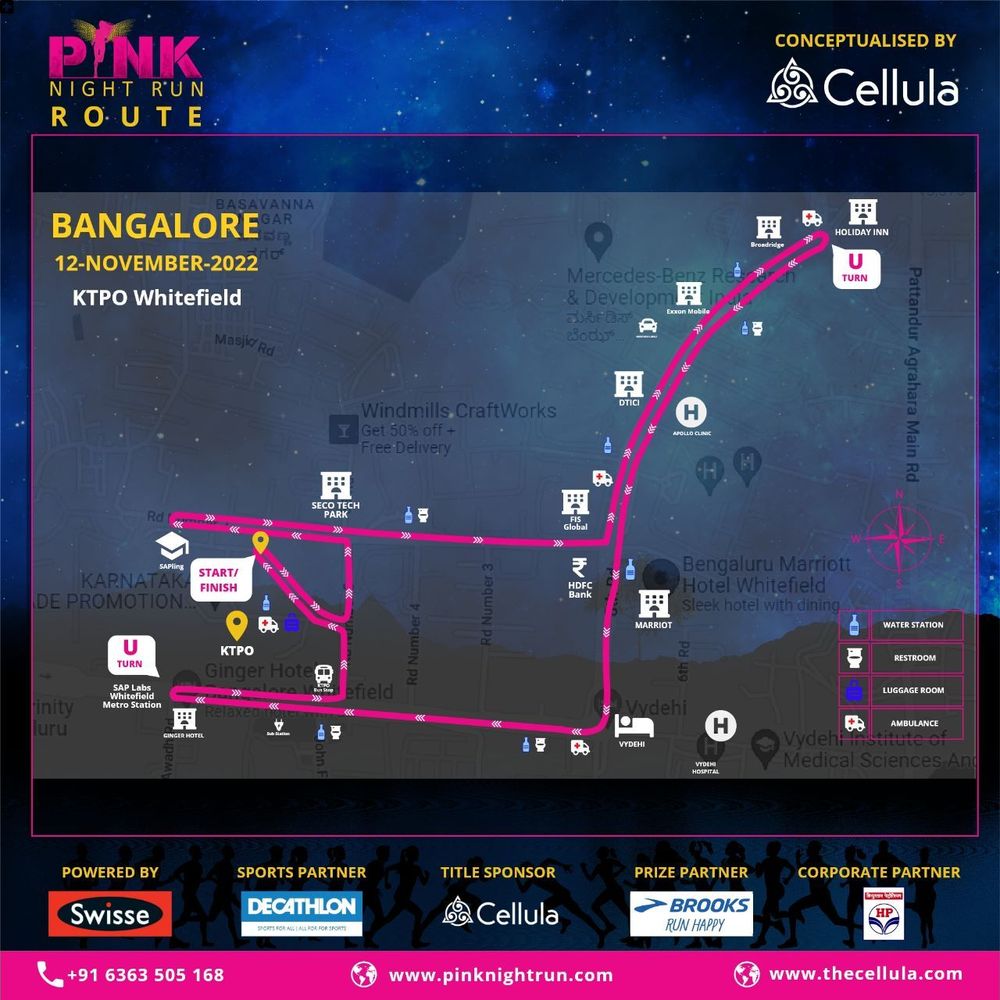 Bib Collection details
Bib collection date and time - On 12th Nov 2022 from 10:30 AM - 6:30 PM.
Bib collection venue - To be announced
Run category:
10 km (timed).
5 km (non-timed).
3 km (non-timed).
Cut-off timings:
2 hours for 10 km run
No cut off for 5 km run
No cut off for 3 km run
Contact details
Any doubt regarding the event Whatsapp us at 9036802196.
Post Run:
Refreshments to all participants.
Medals & Certificate to Finisher.
T-Shirt and Medal to all the runners
Similar Events in Bengaluru